Here is one reason why Disney is the biggest traditional media company in the US right now: the company is way-better at monetizing its intellectual property than other Hollywood film studios.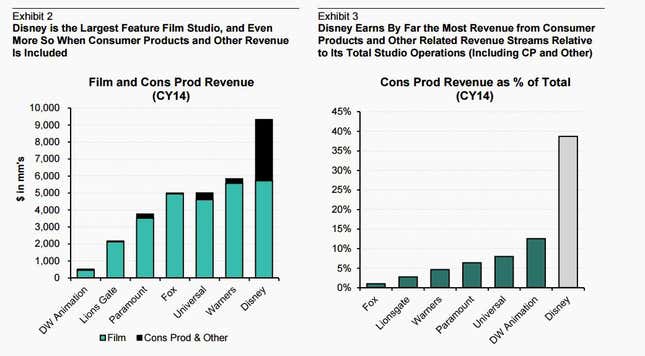 The above charts, published this morning, come courtesy of a note from Bernstein Research analyst Todd Juenger.
Disney's prowess at merchandising is well documented. The company generated more than $1 billion (paywall) from sales of toys related to Frozen, almost as much as that film—the highest grossing animated film in history—pulled in at the box office.
Bernstein Research estimates that Disney's film studio business is worth $30 billion, or roughly 15% of Disney's total market value of $189 billion (at today's prices). And of course, Disney has other extremely lucrative businesses—perhaps none more so than its controlling stake in sports juggernaut ESPN.