For all the awareness of the pay gap between men and women in the US, the numbers haven't budged very much in recent years. The median salary for female workers is only 78% of the median salary for men.
Here's another way to look at that statistic: For every 365 days a man is paid, a woman is paid for anywhere between 241 and 332 days depending on which state she lives in. (The US average is 285.) This map from Expert Market, a firm that helps line up suppliers for businesses, shows the disparity by state. The lighter the shade of the state, the more severe the disparity.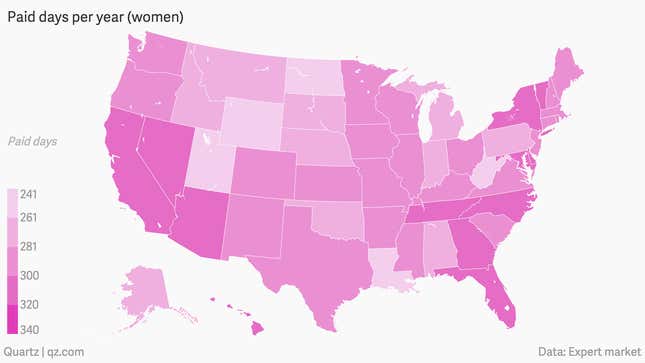 This means that women who work year-round effectively work a number of weeks without being compensated. If they were paid like men, then women in Louisiana could stop working on August 29, and still make the same yearly salary. For Ohio's women, that day would be October 9; for female Californians, November 3; and for New Yorkers, November 10. On average, American women aren't being paid in full for their work after October 12.
And here is a state-by-state look at the disparity on a simple percentage basis. The closest women get to pay parity is in Washington DC, where they earn 9% less than men on average. They have furthest to go in Louisiana, where women are paid an average 35% less than men.