This piece was updated on June 10 with additional comments from Uber.
Uber CEO Travis Kalanick said in late May that Uber had created 60,000 jobs in China over the past month, and the company is logging more than 100,000 rides a day in China, internal sources told the New York Times.
But like most statistics that come out of China, there's probably a slight margin of error surrounding those figures.
That's because Chinese Uber drivers have been logging in fake rides and signing up for multiple Uber accounts in order to nab the company's cushy bonuses, according to various reports. Sometimes they even involve accomplices who pretend to be passengers, but go no where.
According to business news website iFeng, part of the independent Phoenix Television group, Uber has been offering generous incentives to drivers who ferry passengers on The People's Uber—the name for the company's peer-to-peer service in China (known as UberX in most markets and UberPop in Europe). By one account, Uber was handing drivers 300 yuan (about US$50) for every 30 trips and 400 yuan for every 40.
Another driver told The New York Times he was made $1,000 from Uber in the first three weeks of May, the majority of it from subsidies.
These subsidies appear to have worked magic for Uber in China. Despite arriving late to the market, and well behind incumbent Didi Kuaidi, Uber has shot to the top of the app store rankings.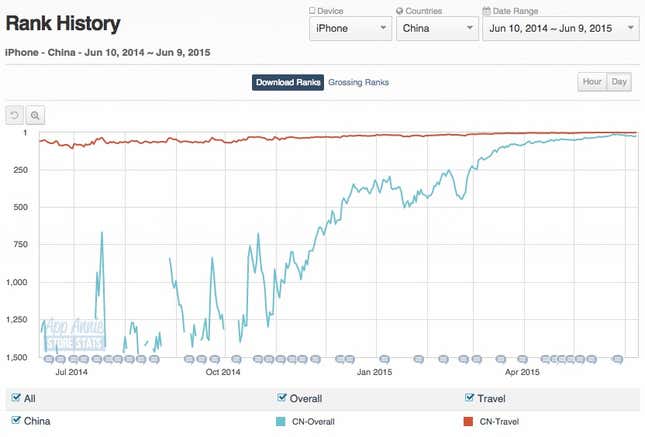 But these subsidies may be encouraging passengers and chauffeurs to game the system now, making it hard to predict Uber's eventual success in China.
A piece from The Paper, a new state-run Chinese language news site that reports that some Uber drivers find accomplices in WeChat chatrooms that help them book bogus rides.
Accomplices can sit in their apartments, disable location settings, and specify a pickup not far from the actual location of driver's vehicle, the report said. The driver then accepts the hail, and goes on a trip without a passenger. After the accomplice approves payment, the driver will – hopefully – pay back the fee and share a cut of the bonus. It's not the most clever get-rich scheme on the planet. But for drivers, it's better than waiting for a hail in a parking lot.
Other Chinese drivers appear to be circumventing Uber's system for signing up new drivers by signing up for accounts with fake credentials, in order to grab first-time driver bonuses over and over again.
Typically, Uber recruits drivers by checking one's ID and driver's license, and outsourcing background checks and vehicle inspections to third parties. But a black market has emerged on Taobao, China's leading e-commerce site, that lets users buy their way in.
There are a handful of offers on Taobao for access to Uber's driver side app for as little as seven yuan, equivalent to $1. Instructions for access varies. But generally speaking, after handing over payment to the vendor, aspiring chauffeurs get access to a unique username, password, and Alipay account that they can use to sign up as a driver.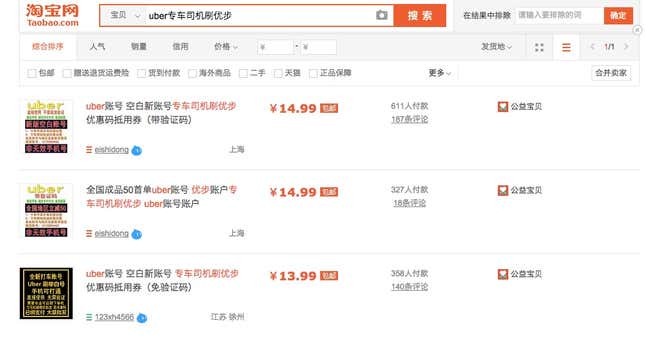 One Taobao seller contacted on WeChat explained that obtaining multiple Uber accounts helps drivers shuadan – a term used to describe using false identities to boost numbers.
These practices might seem particularly alarming given Uber's claims about safety. The company claims to conduct background checks in all of its markets, usually through third-party companies. But Uber's methods for vetting drivers have never been leak proof to begin with. An unregistered driver can easily borrow the phone of a trusted friend who has passed through Uber's system, for example.
An Uber spokeswoman told Quartz that the company is aware of driver fraud and has measures in place to prevent such incidents. "We have on-the-ground team who investigate into these various type of fraud, then using deep analytics, and new tools developed by our Chinese engineers in our dedicated fraud team to combat against such fraud," she said.
The Uber spokeswoman declined to elaborate on the nature of these tools, and also did not name of the company Uber uses to conduct its background checks in China. She said that fraudulent drivers make up a "tiny fraction" of its overall pool, but declined to estimate what percentage.