Two hundred years ago, the armies of Napoleon and Wellington amassed on a field near Brussels. The subsequent battle claimed the lives of some 50,000 soldiers, or one in four of those who fought at Waterloo on June 18, 1815. Defeated, Napoleon lived out the rest of his days in exile, his dreams of expanding France's empire dashed.
Not one to let bygones be bygones, earlier this year France blocked a Belgian proposal to mint special two-euro coins commemorating the decisive battle. (Banknotes are uniform across the euro zone, but each country designs its own coins, which circulate freely.) The coins carry "a negative symbol for a section of the European population," French officials said at the time. This would be "detrimental at a time when euro zone governments are trying to build unity and cooperation under the single currency."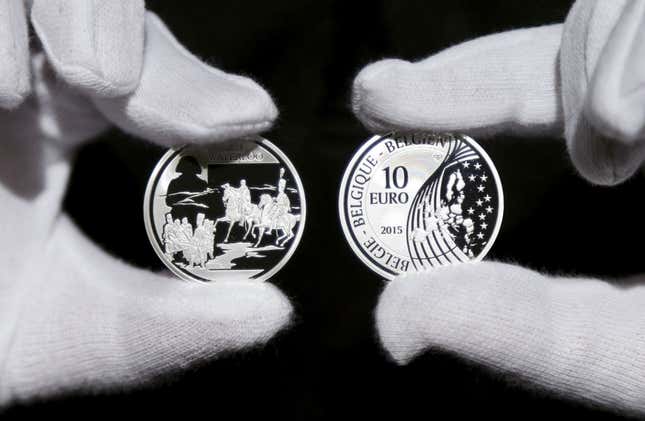 Belgium eventually backed down, scrapping around 180,000 coins it had already minted, at a reported cost of €1.5 million ($1.7 million). It had planned to issue 270,000 of the coins.
But yesterday (June 8), Belgium began minting a very similar coin regardless, featuring an image of the Lion's Mound monument erected at the Waterloo battlefield. The crucial difference is that these coins carry an unusual 2.5-euro denomination and aren't legal tender outside of Belgium. Only 70,000 will be made, sold at a mark-up to collectors (each coin costs €6).
For good measure, the Belgian mint is now also selling a 10-euro silver coin that features scenes from the actual battle (and cost €42 each).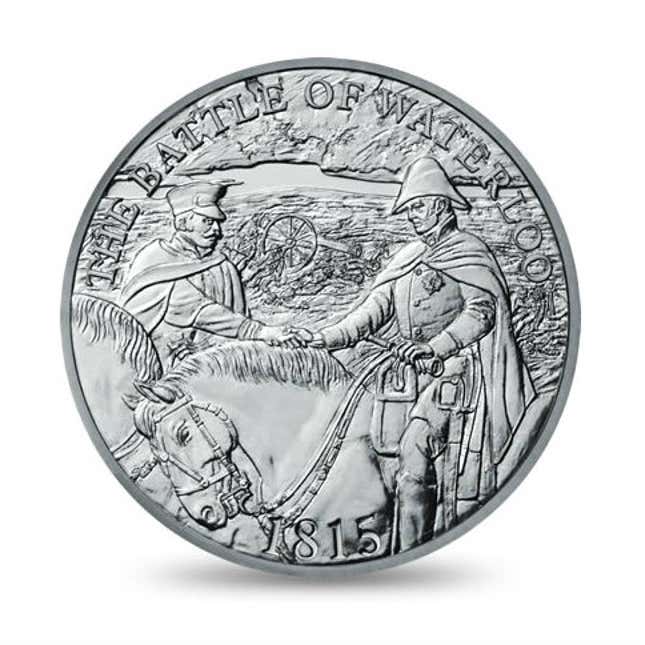 These are not the only European coins to mark the 200th anniversary of the Battle of Waterloo—the Dutch and the British have released their own collectors' editions recently. What makes the Belgian coins particularly noteworthy is the setback they suffered in the run-up to their production.
France won a skirmish, in that the coins won't not circulate as widely as Brussels originally intended. But the interest that the controversy has generated in the coins means that, once again, it lost the ultimate battle.