The first leg of the NBA finals have not been short on drama. The opening two games of the best-of-seven series, featuring the Golden State Warriors and Lebron James' Cleveland Cavaliers, have both gone into overtime. It's the first time this has ever happened.
The series, currently even at one game apiece, also is not short on viewers. Just two games in, this year's final series already is averaging a bigger audience than any NBA championship series since they began airing on Walt Disney's ABC network in 2003.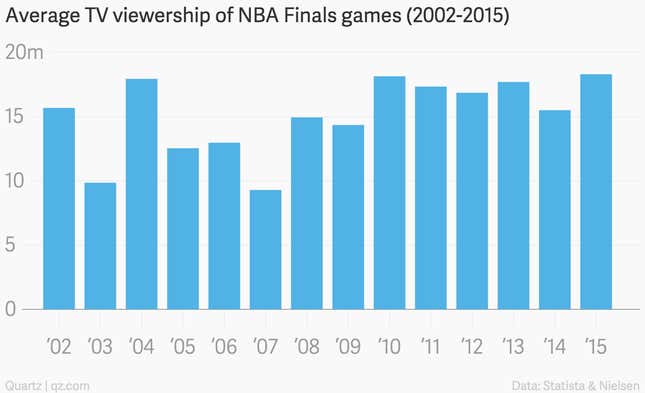 Game 1 on June 4 drew 17.8 million viewers; even more people tuned into game 2 on June 7. Its 12.9 overnight rating from Nielsen, which measures the share of households watching, was up 26% from last year's matchup between the Miami Heat and the San Antonio Spurs, according to ABC sister network ESPN. The audience for game 2 peaked from 11pm to 11:15pm ET, which took in the fourth quarter and overtime, with a 16.9 overnight rating from Nielsen.
Game 3 is in Cleveland tonight (June 9) at 9pm ET. It will be the first time that the Cavaliers will play a home finals game since the 2007 season.