The consortium of global airlines is trying to squeeze your carry-on bag. On June 8 the International Air Transport Association (IATA) proposed a new minimum standard for a maximum size it wants member airlines to allow on board. Its 55cm x 35cm x 20cm (22 x 14 x 8 inches) yields a volume of 38,500 cm³. That's 39% down from the previous IATA standard of 56cm x 45cm x 25 cm— the equivalent of four soccer balls' worth less volume.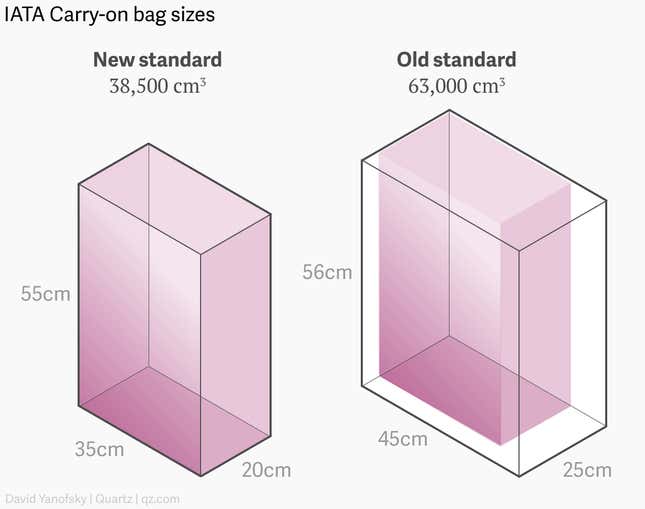 The change comes as airlines are reducing their limits for bag size anyway and collecting more and more fees from passengers who check their bags. Aircraft manufacturers, for their part, are still engineering new ways to increase overhead bin capacity.
The reduction is a result of the "IATA Cabin OK" program which seeks to certify certain luggage as meeting IATA requirements. Tom Windmuller, an executive at the group, says it's intended to make sure flyers have confidence that their bag will be allowed on board. In the process, the aim is to improve airline performance by reducing the time it takes to board a plane. Airlines aren't obligated to adopt the IATA policy, but in a video on the IATA website, Windmuller says "30 or 40" airlines are "interested," with a dozen saying they'd accept the requirements as is.
The proposed baggage size is smaller than the current limits on American Airlines, Delta, United, Southwest, British Airways, EasyJet, Lufthansa, Air France, and Emirates. Only EasyJet and British Airways allow carry-ons as large as the old standard for economy class passengers.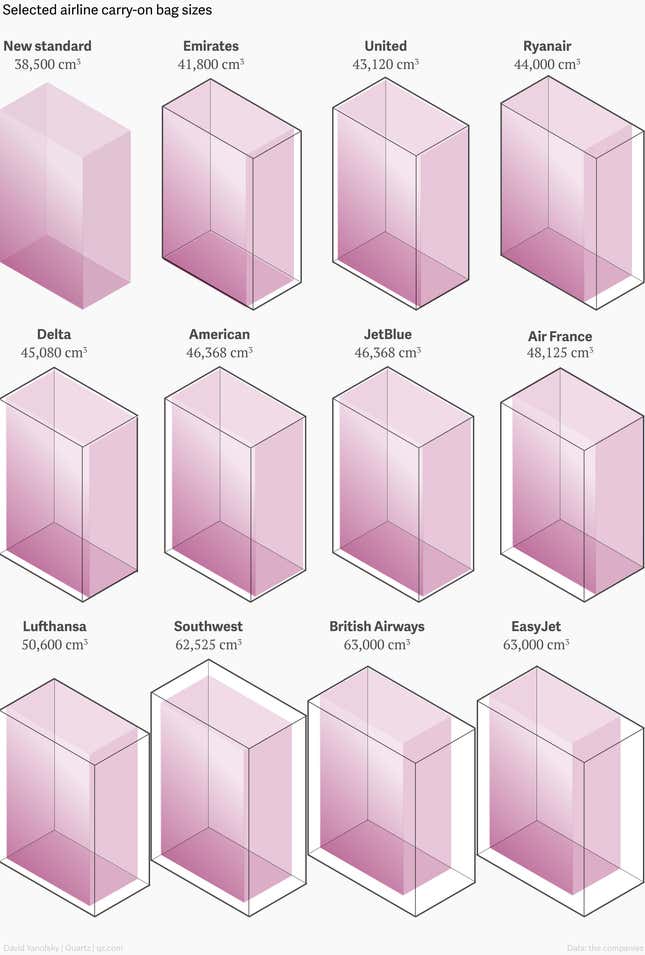 On the one hand, this means that if you buy an "IATA Cabin OK" certified bag, it will definitely be small enough to fly on any of those airlines. On the other hand, it means that if you're already fighting one of these airlines over the size of your carry-ons, the new dimensions are only going to make it worse.