HONG KONG—The fight for democracy in Hong Kong has entered a critical and possibly final stage as a controversial electoral reform package that brought thousands of protesters into the streets last year goes up for a legislative vote. The result will determine how and when Hong Kong holds its first direct elections for the city's top official, the chief executive.
Ahead of the vote next week, pro-democracy activists critical of the plan, Chinese officials, and conservative politicians are scrambling to sway lawmakers and the general public. Hong Kong's 70 legislative council members will vote on the plan during a legislative session that starts June 17. For the vote to pass, two-thirds of the city's lawmakers need to approve it—and if it does not pass, no one can say for sure what might happen next.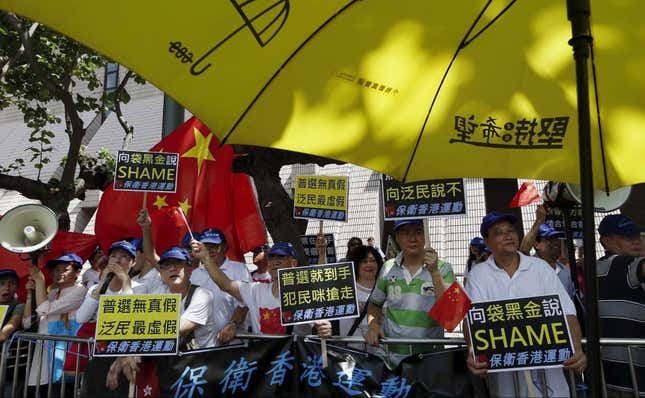 Pro-democracy groups and student demonstrators plan to hold vigils every evening next week outside of the Legislative Council to pressure lawmakers to vote against the bill. Hong Kong police have dedicated up to 8,000 police specifically for riot and crowd control ahead of the vote, including 350 retired police—more than the 6,000 deployed to clear the Occupy Central protests last December.
Police have been practicing anti-riot drills, complete with pepper spray and full-body shields, in case protests break out again. And a new smattering of tents reminiscent of last year's occupation has sprung up around the government building.
Meanwhile, China is doing its best to intimidate the 27 legislators from pro-democracy parties to go back on their promise to reject the plan. In last-ditch talks with the lawmakers on Sunday, mainland officials said the vote would show which lawmakers are loyal to China and that those who vote no will face serious consequences.
"If the political reform package is vetoed, the consequences will be unbearable to Hong Kong society, since it will be torn by a political standoff and confidence in the city will be shattered," state-run Global Times wrote in an editorial in English today.
The People's Daily, the official mouthpiece of the Chinese communist party, added that the current reform proposal would avoid the "hazards of populism." The editorial in Chinese went on to say, "A minority of people have tried to use 'international standards' to replace the rules of [Hong Kong's] Basic Law with their own personal gain. This cannot be allowed."
The proposed electoral package would allow only candidates approved by a 1,200-member nominating committee, likely favorable to Beijing, to run for chief executive—a structure that protestors and pro-democrat lawmakers argue breaks a promise China made to Hong Kong universal suffrage when the territory was handed over from Britain in the 1990s.
If the package is voted down, it's not clear whether Hong Kong will keep its current system in which the nominating committee votes on the chief executive or begin coming up with a new plan. Chinese officials have said that the process for electoral reform cannot be restarted and that the framework would remain even if it is blocked—essentially saying that this week's upcoming vote does not count unless it goes in Beijing's favor.