In relatively rapid fashion, online job marketplaces such as LinkedIn and Xing have dramatically changed the labor market in many countries. And their effect will continue to grow, according to a report by the McKinsey Global Institute: These platforms could benefit 540 million people around the globe and add $2.7 trillion to global GDP by 2025, the analysts predict.
The authors see this happening not just through platforms that match people with jobs (LinkedIn, Monster, Xing, or Vault, for example), but also through online marketplaces for freelance work (Upwork, Uber, Amazon's Mechanical Turk platform), and services that aim to help companies hire better.
Here's how that $2.7 trillion estimate breaks down: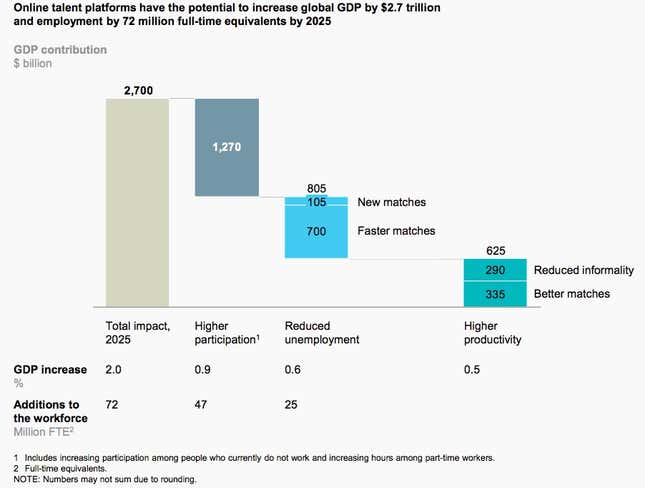 A number of things make up the additions to the workforce and GDP. The biggest one is simply getting more people to work. McKinsey points to the large number of people around the world who remain unemployed or underemployed.
The report suggests that just having far more jobs online and easily searchable will help more people find jobs, cut down on job search time, and get a better idea of where work is actually available. Of course, plenty of unemployed and underemployed people are still digitally unconnected, but that number is shrinking each year.
The authors also suggest that online part-time and freelance platforms around the world, like Upwork or more specific ones like Handy, will help people work part-time more effectively, and eventually transition to full-time employment.
Even a small portion of this population working a few extra hours a week would have an outsize impact. Here are McKinsey's estimates of economically underutilized workers in some of the world's biggest economies: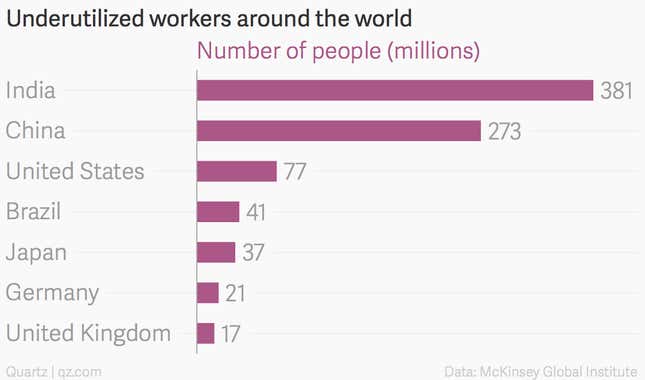 The report also suggests that as online job search services allow companies to have more information about a larger pool of applicants—and vice versa—people are better matched to jobs, and labor productivity increases.
Also, information about the job market and in-demand skills via platforms such as Careerbuilder, Glassdoor, and LinkedIn might lead people to make better choices around their education.
The analysts also expect online job marketplaces to increase the amount of people working in the formal economy. Around the world, there are still many millions of people who make a living in an ad hoc and unrecorded way. Bringing more of these people into the formal economy should also be a substantial driver of economic growth.
Some countries are going to see more of an effect than others—including those with high unemployment and developing economies. But McKinsey expresses confidence that pretty much every country will benefit.