Instead of taking the subway to your next meeting, why not burn a few extra calories and take a canoe? In a patent awarded yesterday, Google outlined a system for recommending different ways to get to a destination based on a person's fitness goals.
The system, which looks a lot like Google's personal assistant, Google Now, takes into account calendar events, location, and any information it knows about the user's fitness goals, like taking a certain number of steps per day. It then suggests different ways to get to places other than taking a car or public transit.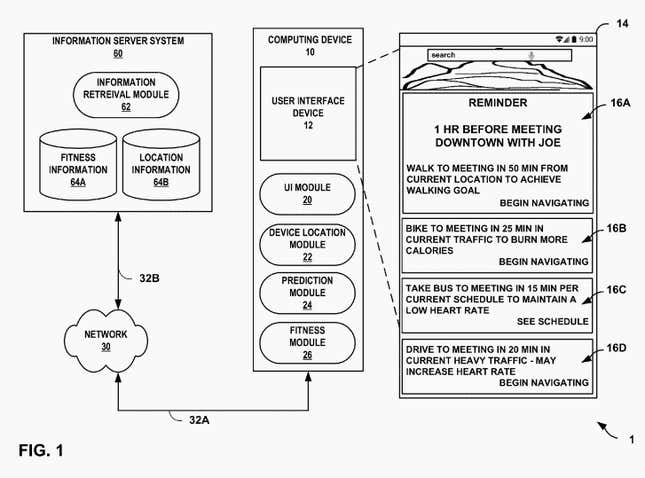 Some of the proposed transport suggestions make sense for someone who has a lot of meetings around town on a given day, such as walking, biking, or even jogging. But the patent also suggests some more unusual ways to get around, including roller-skating, kayaking, and canoeing—though it's hard to imagine many offices feasibly offering canoe docking facilities.
The proposed system also shows what might happen if a user takes more traditional modes of transport. If users are wearing a device that can track their heart rates, the system might show them that taking the bus might keep their heart rate lower than sitting in heavy traffic and getting really annoyed about it.
The patent also suggests that users can plot their own courses on a map, which would be useful for exercising. The system would show them how much energy and time it would take to bike, roller skate ,or jog around a park.
Google wasn't immediately available for comment on whether this was something it was looking to implement any time soon. Some mapping apps, like Citymapper, already show you how long it would take to get somewhere by walking or biking, as well as how many calories that would burn. And apps like Map My Run can also plot routes on maps, but none really take into account fitness trackers, calendars and traffic conditions.
As Google Now becomes more integral to the Android operating system, a system that knows how you like to get around and how active you are could be a game-changer. Or, you could end up carrying around an annoying personal trainer who is always nagging you to canoe more.