Groupon's effort to garner merchants looks like a loss leader and a risky effort to shore up the company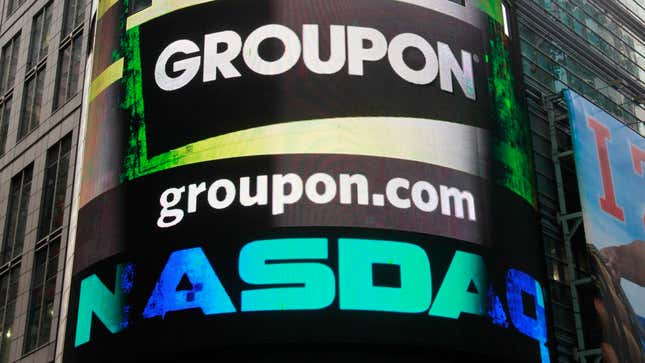 Groupon has just announced a combination of hardware and software that will allow businesses to accept credit cards, but at rates far lower than what merchants are accustomed to paying. Where most merchants pay their credit card processor between 2% and 4% on every transaction, Groupon Payments only asks 1.8% plus 15 cents for each swiped transaction. There's a catch: merchants must run a daily deal with Groupon.
The question is whether or not the rates Groupon will charge can ever be justified by the number of merchants the company signs up. Groupon seems desperate to end the red ink and bad publicity that has besieged it. Investors are fleeing the company.
Earlier this year Groupon CFO Jason Child said he wants the company to expand until it's the "operating system" for local commerce, reports Reuters. This scheme is certainly in line with that goal, but all of Groupon's competitors in this space are charging 2.75% to 3% per transaction, despite having every incentive to undercut each other in order to become dominant. In recent interviews with the founders of Stripe, and WePay, heads of both companies indicated to me that these price regimes are determined by underlying costs, mostly the rates that credit card companies themselves are charging these service providers.  Which suggests it would be difficult or impossible for Groupon to be making money at a 1.8% rate.
"There is an all out war for brick-and-mortar point of sale," said Bill Clerico, CEO of online payments startup WePay. "Google Wallet, Groupon, Square, PayPal—everyone is trying to figure out how to get point of sale in the hands of merchants, to sell loyalty programs and analytics. That's a crowded space. That's the direction I see Groupon going."
Groupon's offering is very much in the mold of Square and its many imitators, which include PayPal and Verifone: it consists of a small dongle that plugs into a smartphone or tablet and can read the stripe on a credit card. The result is a replacement for the traditional point of sale credit card reader. Groupon is late to the game, however: Square announced its system in 2010, and it now processes $8 billion a year in transactions, is valued at $3 billion, and has just become the sole payments processor for Starbucks coffee.