The simple act of airing dirty laundry is taking on a new, powerful meaning in the young country of Kosovo this Friday, June 12. To commemorate survivors of rape in Kosovo's war in the late nineties, an artist is stringing up 5,000 dresses on clotheslines stretched across the main soccer stadium in the country's capital.
June 12 marks the day in 1999 when NATO troops entered Kosovo after a long-standing conflict between ethnic Albanians and Serbs escalated into war. Serbian forces carried out a program of ruthless ethnic cleansing during the fighting.
One of their weapons of war was sexual violence.
Although exact numbers are impossible to determine, it is estimated by international organizations that as many as 20,000 women were raped during the war—in detention centers, refugee convoys, in their own homes, along with their daughters and sisters. Many women stayed silent about their experiences, even to their own husbands, and the issue has largely remained a dark, if open secret.
"They felt ashamed, they felt dirty, that they have a stain. For me it was the opposite. They are clean, they are pure," the project's author, London-based artist Alketa Xhafa-Mripa tells Quartz. The installation is entitled "Thinking of You." She says that "it is about being as one, not them and us. We are one as women. If it happened to her, it could have happened to me."
She decided to stage the conceptual art piece in a soccer stadium, an epitome of a masculine space. "It symbolizes a man's world: Sweat, anger, shouts, adrenaline," she says. What's more, it's confined, it's a "box" from which there is no escape, evoking the experience of rape.
The project's producer, Anna Di Lellio adds that the stadium is in the center of Pristina, a location where the city holds military parades and war-related celebrations. The project is a different way of honoring the war, without the pomp and triumphalism, she says. "It's a different story; it's a story of the intense suffering that the war brought to everyone."
Over the past several weeks, Xhafa-Mripa and Di Lellio have been organizing clothing drives around the country and internationally, to collect the dresses. The response has been overwhelming, they say. They've received items from women of all walks of life, from deputies in parliament to a woman who was too poor to donate a skirt, but gave knitted socks instead.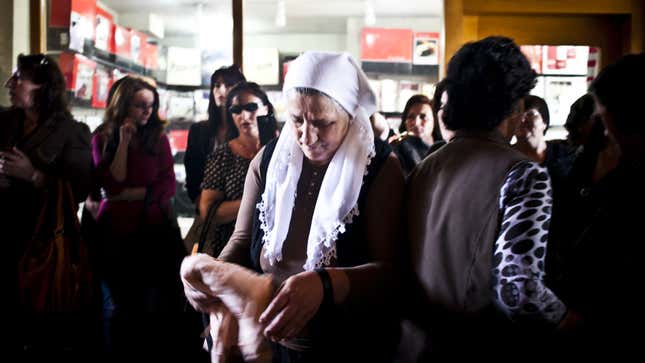 The country's ambassador to the US donated a dress she wore to sign Kosovo's independence declaration. British foreign office minister Baroness Anelay donated a skirt as did advocate for women's rights and wife of former UK prime minister, Cherie Blair. Fashion designer Diane Von Furstenberg emailed Kosovo's president asking how she could help with the effort.
But perhaps some of the most powerful stories came from the rural areas, where the wartime fighting was most intense. Women would pull the organizers aside during the drives saying, "I am one of them," says Di Lellio. Sometimes they would talk about their own experiences in the third person, which is common among survivors of trauma.
One woman who had been abandoned by her husband donated her wedding dress. Another gave Xhafa-Mripa the red dress she was raped in. The attack happened during the first year of her marriage, which subsequently fell apart. She told the artist that she was "giving away all the pain, the suffering, the thoughts" about her marriage.
A third woman gave away a white dress. She was six months pregnant when she was raped. Her baby was killed.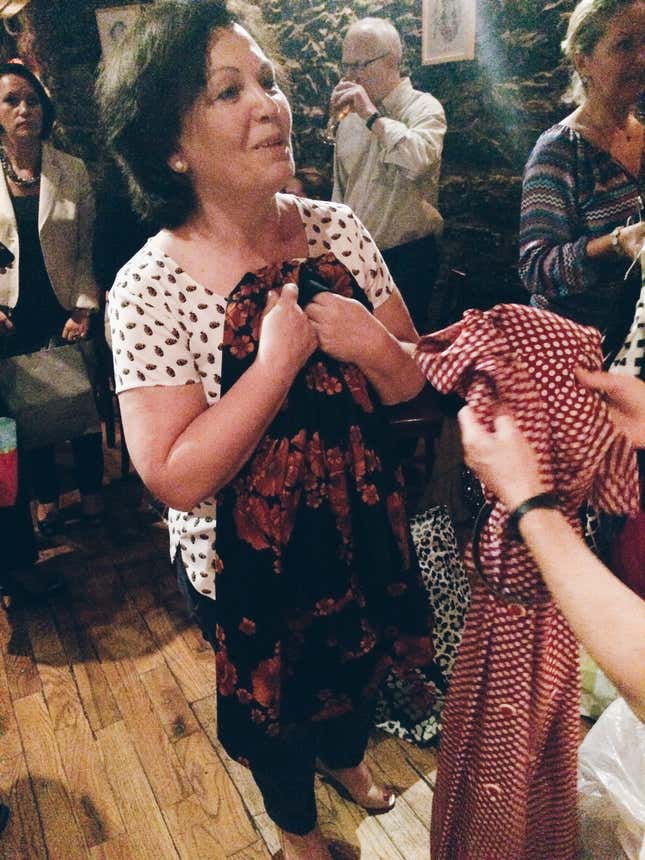 During a clothing drive in New York, a woman named Lule Pula came up to Di Lellio, clutching a red polka dot dress. As she gave it to her, she said "this is the dress I wore when I came to America." She then reached for another one. "This dress belonged to my mother." Pula's mother, as it turned out, was an anti-fascist activist during World War Two when she met her husband, partisan commander and Kosovo's future prime minister. "I wanted to share one small tiny thing with those who suffered," she said, teary-eyed. 
Sixteen years later, the perpetrators have largely remained unpunished. Fearing stigmatization, women very rarely come forward to report what happened to them, let alone seek prosecution. Even fewer land in court, says Veprore Shehu of Medica Kosova, an organization that helps survivors. In the two cases her group is involved in, arrest warrants have been issued but the suspects are still at large.
For the most part, the women have other, more basic needs. Many of the survivors' husbands were killed in the conflict. The women were left as sole providers for their families, in areas ravaged by war and poverty, with little education and almost no financial help. Shehu says, "economic empowerment is crucial," to help lift them out of poverty.
Last year, after pressure from human rights groups, the country's parliament amended a law that granted veterans and civilian victims various benefits and compensation to include rape victims.
The Kosovar president Atifete Jahjaga is involved in a number of initiatives to support rape survivors, including efforts to give them more financial independence, as well as the art installation, which she supported from day 1.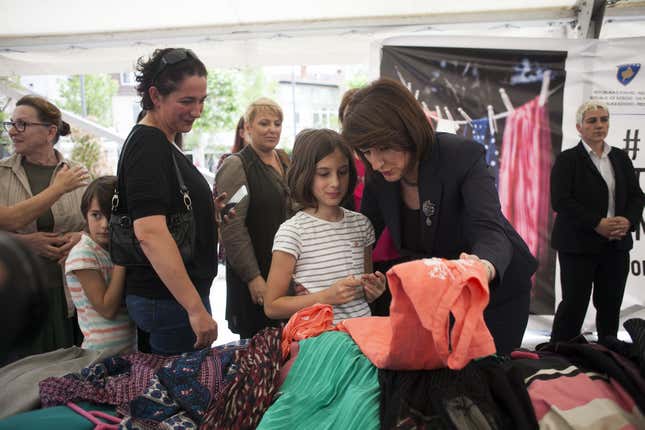 In order to receive help, however, these women need to come forward. And initiatives such as "Thinking of You" foster the public conversation that is necessary to de-stigmatize their experiences.
One response that surprised the art installation's creators has been the reaction of  Kosovo's men, who have come forward in large numbers to donate dresses that belonged to their wives or mothers.
One patriarch of a well-known family of war victims, most of whom were slaughtered during the war, met with Di Lellio and Xhafa-Mripa in his traditional Albanian hat and big mustache, and said that "it is about time we think of our sisters and mothers, wives."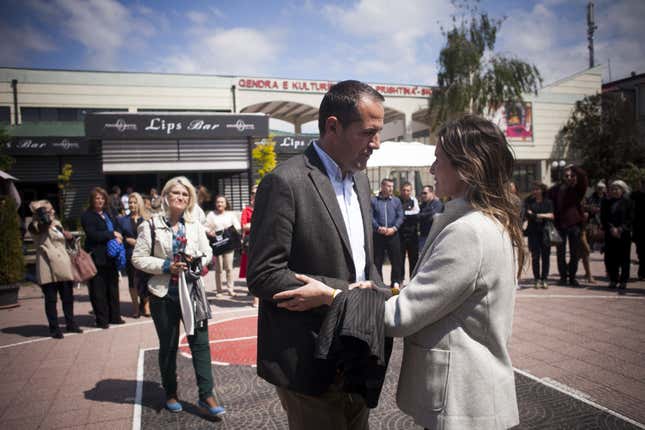 Xhafa-Mripa is in talks with authorities about transforming "Thinking of You" into a permanent installation in Pristina. But she also plans to take the piece to other places touched by war, where sexual violence was used as a weapon. "I want them to have a statue of liberty of their own."