As people who've flocked to the suburbs can attest, sooner or later, city life just wears down on you. It's cramped. The traffic's a mess. And of course, the rent's too damn high.
In San Francisco, some startups are also seeking refuge from the city's downtown, with its soaring office rents, which are expected to soon overtake Manhattan's on a per-square-foot basis, and the lowest vacancy rates in the country.
So now some companies are finding reprieve much farther away. Tucked into the idyllic Santa Cruz mountains, 70 miles (about an hour and 20 minutes if traffic's clear) from San Francisco, the 24-acre (9.7 hectare) Enterprise Tech Centre offers many amenities that parallel the office parks of the Silicon Valley, but with a big focus on fitness and the outdoors.
In addition to 381,000 square feet (about 35,400 square meters) of rentable office space, there are bike paths lining the campus, an Olympic-sized swimming pool, an amphitheater with seating for 2,500 people, an indoor basketball court and a tennis court, as well as a sauna, auditorium, and fitness center—all for $2 a square foot, a relative steal.
At that rate, the cost to rent an office in the Enterprise Tech Centre is 57% lower than the $4.60-per-square-foot average asking rent for class A space in Silicon Valley, according to Colin Yasukochi, research director at brokerage firm CBRE. San Francisco's average is $5.50 he said.
The irony, of course, is that tech companies have been recently building out their presence in San Francisco, driving up its rents, partly because of the real-estate squeeze in Silicon Valley's sprawling suburban office parks.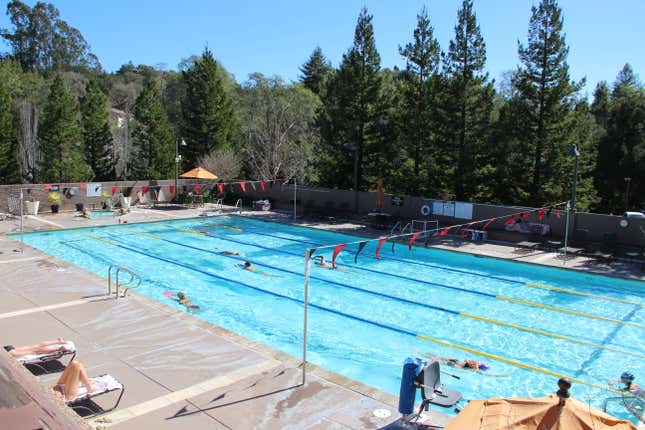 Once the home of Borland Software, the campus in Scotts Valley cost $120 million to complete, but the property lay vacant after the company moved out in 2009 as part of cost-cutting measures. Under new ownership in 2014, the Enterprise Tech Centre has been seeking new tenants, and some, such as the mobile payments startup PayStand, are seeing the appeal.
"The cost of doing business has gone up dramatically," Paystand CEO Jeremy Almond tells Quartz. "Everyone's fighting for the same engineers and same office space in [San Francisco's South of Market district]. As a founder, you want to be thinking about how to scale your business, and you want to do that creatively."
Paystand currently employs 19 people, but Almond says the company is rapidly hiring, and the campus is accommodating. "That's part of the attraction," says Steven Sheldon, whose firm Sheldon Wiseman Commercial Real Estate is leasing out the Enterprise Tech Centre. "A company like Paystand—they can grow to almost any level without having to move."
Currently, the campus is at 25% occupancy, but Sheldon says it is actively talking with potential tenants, who are interested in renting about 180,000 square feet of space.
And though it is a considerable trek from San Francisco, Paystand says tech workers who are tired of the daily slog are willing to trade in the traffic along the 101 to live in Santa Cruz, with its proximity to nature.
"It's not a hard sell to say, 'Do you want to live by the beach or have a house in the mountains?'" says Almond. "For a lot of people, that is very compelling."