In 2012, after a Washington DC taxi commissioner personally hailed an Uber vehicle only to promptly arrest the driver, Uber told its supporters call their senators and storm social media. When it comes to China, the company's  rhetoric is decidedly more conservative.
Yesterday authorities in Guangzhou, a manufacturing center in southern China, launched a similar sting operation against a driver for Didi Kuaidi, an Uber competitor and the leading ride-hailing company in China. According to business magazine Caijing, a transport bureau official hailed a high-end vehicle through Didi Kuaidi, got in the car, and then promptly asked for the driver's ID and announced he would impound the vehicle (link in Chinese).
What followed was what Chinese media is calling a "mass incident"—a special term used to describe disruptive protests that carries political baggage. Dozens of Didi Kuaidi drivers who apparently caught news of the attempted sting surrounded the vehicle, waving signs in support of Didi and demanding the official, who was inside the car, let the driver off the hook. The mass of supporters blocked traffic, and police arrived to break up the crowds, photos posted on Sina Weibo (log-in required) show: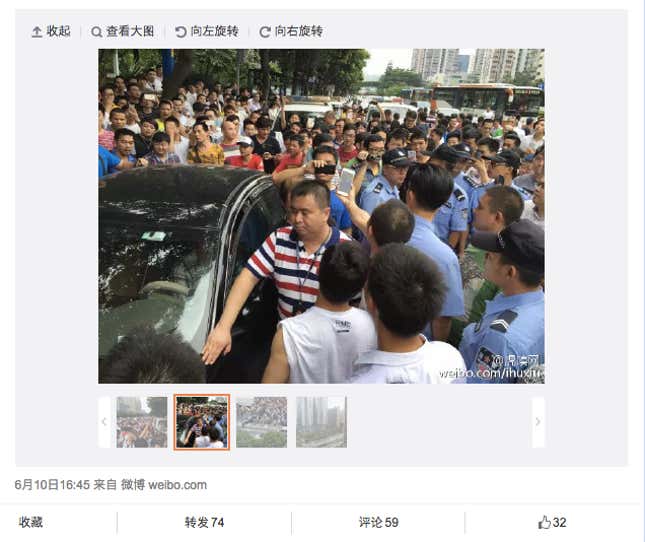 Local raids and stings are nothing new for ride-hailing companies, including Didi and Uber. But in the wake of yesterday's chaos, statements released by the firms reveal how the companies are trying to warm the monolith that is the Chinese government to their controversial business model.
Didi issued a public statement to Chinese media distancing itself from the incident, while also re-affirming its commitment to work with the government.
"According to our internal and external research, we've confirmed that the drivers at the demonstrations had nothing to do with Didi. But whatever the reason, and whatever the driver platform, we hope all parties can use rationality to come to an understanding," the statement reads."
According to Caijing, around the time of the incident, Uber sent out a stern statement to its drivers, warning them that it does not condone public demonstrations. A spokeswoman for Uber in Beijing wouldn't confirm whether or not the statement had been sent. But her description of the company's stance towards public protests hits all the marks for party-approved rhetoric.
"We firmly oppose any form of gathering or protest, and we encourage a more rational form of communication for solving problems," she told Quartz.
Meanwhile, in New York state's Hamptons beach area, where Uber also faces a potential ban, the company is encouraging its users to call town officials to voice their support.
Protests and social media campaigns give US regulators food for thought, but in China, they're viewed as signs that order is collapsing. The challenge Uber and Didi face in China is to gather enough public support so their cause is visible, but not enough to become symbols of the government's troubles controlling society.