If you have about $1,000 to spare and just want to take videos of things from the sky, then you should get a consumer drone. But if you want a drone that can hear, smell, or play laser tag, you'll have to build one yourself. Thanks to a new drone kit from a startup called Skyworks, that's not as hard as it sounds.
"Drones can be more than just flying cameras," Skyworks says on its Kickstarter page for the project, called Eedu. Jinger Zeng, Skyworks' chief operating offer, told Quartz that they want to encourage makers to build drones that explore all five senses.
Like many Ikea assembly projects before it, you only need an allen wrench and some patience to build an Eedu. Zeng says it takes about 30 minutes to put the drone together: "We want to take the complexity of robotics out of it, but still get the gratification of putting a drone together."
The more established drone companies are also saying their newest products are "platforms." Both DJI and 3D Robotics have developer platforms for their high-end drones, but the drone hardware is still limited to cameras with propellors. The Eedu base model doesn't come with a camera, because Skyworks wants its users to experiment with other sensors.
Eedu puts the control of its drones, and what they can do, in the hands of the users. Once it's built, the Eedu can fly right away, like any other commercial drone. But anyone can write code to make an Eedu do whatever they want. Rather like MakerBot's repository of models for 3D printers, or GitHub's library of code for developers, Skyworks wants the programs that users create for its drone to be an open repository. This means whether you're an expert coder or not, and you see a neat program that someone has created for Eedu, you can download it and run it on your drone.
Skyworks created a drone laser tag game to show what sorts of things you can code for the Eedu. But Zeng envisions myriad uses for the drone: you can add a methane sensor to turn your drone into a coal mine canary; add a Geiger counter to detect radiation; add a heat sensor so firemen can detect where people are instead of entering an inferno themselves; or perhaps make an autonomous drone from scratch.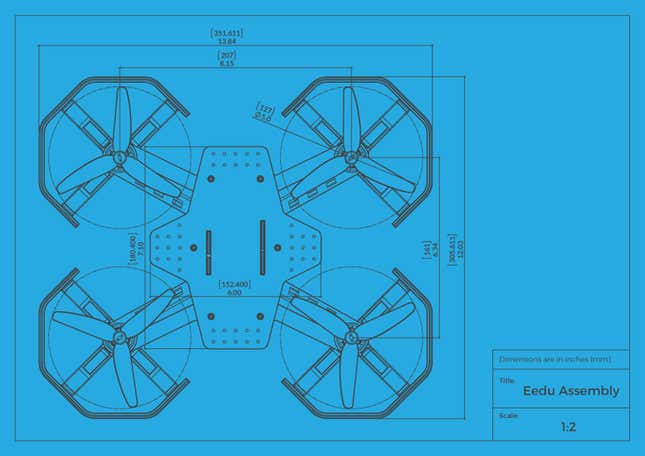 Eedu is compatible with open-source sensors, like those from SeeedStudio and LittleBits, meaning if something can be sensed, you'll be able to make a flying version of it. Zeng said that the designs of Eedu's parts will also be open-sourced, meaning that "people can 3D-print their own frame or do their own 3D customized design if they want."
Skyworks is launching the Eedu on Kickstarter, but wants to use the drones to help shape its enterprise products of the future.
(As for the viability of this project—an important question, considering many broken Kickstarter-gadget promises—the company identifies itself as a startup composed of "recent college graduates" who have "collaborated together on various projects." Its first drone has been on sale since December 2014.)
If the campaign is successfully backed, the Eedu team expects it to go into production in September and ship in January 2016. Eedu costs $449 during the pre-order period, or for $399, you can donate a drone for a student.