Lauren Johnson found out she was pregnant a week before she was arrested for drug possession. She was in jail by the time she gave birth to her son in 2004, and spent three days with him at hospital. It was five months before she saw him again, when he came with her aunt to visit Johnson in the state prison where she was serving her sentence.
A decade later, Johnson watched Netflix's women's prison dramedy Orange is the New Black, and saw her story when an imprisoned character, Maria Ruiz (played by Jessica Pimentel) had to give birth and return to prison.
"Watching that, it just took me back really fast," Johnson tells Quartz. "That really hit me hard."
The show has had a running theme of motherhood. One character gave birth during the first season, another is pregnant, and yet others have children who visit them or who they reminisce about. The cast even recorded a mother's day message this year, and the new season, released June 11, starts with an episode about mother's day.
It's a topic that makes sense for the show, even if it's not at the forefront of the national conversation. More than half (pdf, pg. 2) of women in state and federal prisons in 2004 were mothers of children under 18. And the topic American mass incarceration in general is a deeply controversial issue, as the US imprisons people at a very high rate compared to other countries. It turns out that the likelihood of being a mother versus a father in prison is not that different. Even though far fewer women are locked up in US prisons compared to men, the proportion of parents in each group is similar. In Johnson's case, the father of her child (now her husband) was arrested after she left prison. After his release they began to date again, he became involved in her and the baby's life, and now they are married with three children.
Incarcerated mothers in state prisons in 2004 were more likely than fathers to actually live with their children before their arrest.

And when mothers were in state prison, relatives other than the father often cared for the child. In Johnson's case, her aunt took care of her son. About five years later Johnson relapsed and was arrested on drug charges again. During that seven-month sentence, her husband took care of the kids with the help of two friends.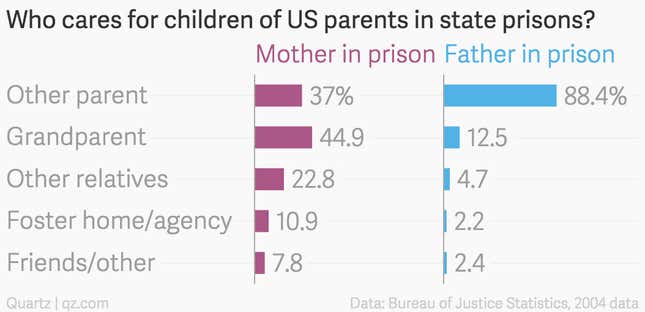 Now, Johnson is a fellow for the prisoner advocacy group Grassroots Leadership, and she's involved in lobbying local and state politicians to increase rights for prisoners and former prisoners.
In truth, the travails of motherhood in prison are more mundane than many of the dramatic story lines the show depicts, Johnson says. That doesn't mean mothers in prison don't suffer terribly. The first time around, it took Johnson more than a month to learn (from a letter) what had happened to her son. She thought her aunt had absconded with her child, that she wouldn't see him again. "When you're in there with no communication and no way of knowing anything, your mind goes berserk."
It turned out that her aunt had gotten back surgery, and was unable to drive three and a half hours to visit her.
"People are so wrapped up in dealing with the kids and taking over that responsibility, that they don't have the capacity to be a big support to the people in jail," Johnson said. "What I would like to see illustrated … more is the lack of support."
The level of support offered incarcerated mothers and their families varies from state to state across the country. There are prison nurseries in some states, which allow new mothers to live in a separate wing of the prison until the baby reaches a certain age. That option wasn't available to Johnson, though. And when children do visit, the experience can be an awkward one—parents and children rarely stare at each other for two hours in any setting. Johnson would like to see coloring books or activities for kids and parents to engage in together during visits.
The motherhood stories portrayed in Orange is the New Black might not have had a huge effect on policy makers so far. But they serve to humanize imprisoned mothers, to create points of discussion between people and more broadly in the media.  Pregnant women and mothers who are incarcerated often have few options, Johnson tells Quartz. She could have remained out of jail during her first pregnancy, but was unable to pay the bond, a problem many Americans have.
And it is difficult for incarcerated mothers to fight back if the state decides to take custody of their children, she says.
"I can't tell you how many times I've seen a woman served with papers from court that they're going to lose their children," Johnson says. "You have no ability to do anything for yourself."
Bringing humanity to characters on screen might attract support for giving their real life counterparts more human rights.