The long-awaited shakeup of Twitter's top leadership has arrived.
Twitter CEO Dick Costolo, who led the company through its largest growth period and took it public, is stepping down from his role, the company announced.
Twitter co-founder Jack Dorsey, who essentially invented the service and was its first CEO, will take over as interim CEO. Costolo will stay on Twitter's board.
Dorsey will continue to lead Square, the mobile payments company he founded after he first left Twitter in 2008.
This is Dorsey's second time returning to Twitter in an increased capacity. He returned in 2010 to lead product after Costolo became CEO, and then gradually scaled back his commitment again.
Twitter's top executives held a company-wide meeting to discuss the move. Here is a photo, with Costolo and Dorsey (bearded) in the center; co-founder and former CEO Evan Williams is on the far right.
Twitter stock is up about 7% in after-hours trading. Wall Street has been agitating for Costolo to leave for a while, without a clear path forward. While some technology stocks have soared this year, Twitter's has not.

One major problem is that while Twitter has achieved mainstream awareness, its user base has not grown nearly as fast as Facebook's.
While many of Costolo's appointments have been successful, its product leadership has not been. Costolo recently promoted long-time employee Kevin Weil to become Twitter's latest head of product, which many long-time company followers saw as a positive step.
Costolo recently said his job was safe, in an interview at the Code Conference two weeks ago. "I don't worry about that at all. The board and I are completely in sync. Believe me, I don't worry about that at all," said Costolo.
Major Twitter shareholder and early advisor Chris Sacca has recently taken a more vocal stance. Last week, he published an 8,500-word post containing advice for the company. Noticeably missing were the words "Dick Costolo."
Another tough comparison to Facebook: While Facebook was able to quickly become profitable after its IPO, Twitter has not.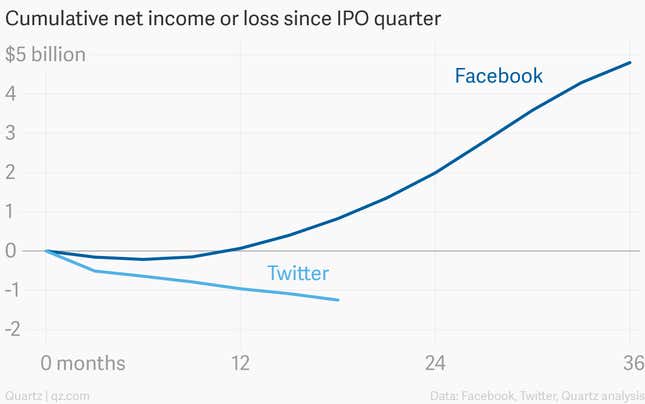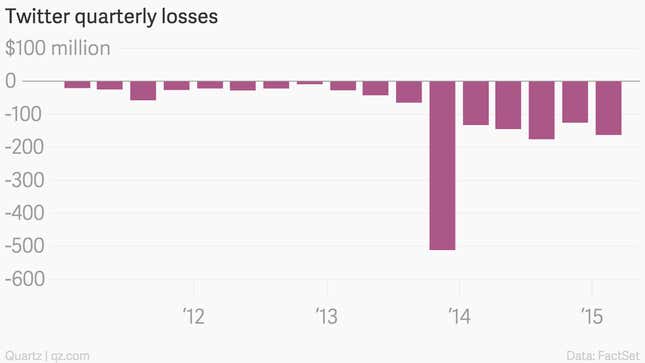 One of Twitter's biggest shortcomings has been its marketing. Perhaps Dorsey, who has skillfully built Square's brand and his own, will have a positive effect there.
Costolo, by the way, was a beloved and funny leader at Twitter. Here is the famously prescient tweet he sent the day before becoming Twitter's chief operating officer.
Twitter was Costolo's third—and biggest—attempt to build a real-time, social advertising platform. His first was at FeedBurner, which Google acquired. Later, he tried at Google. But neither was as big as Twitter, which projects more than $2 billion in revenue this year, primarily from advertising.
Twitter has few obvious internal choices for CEO: Adam Bain, its head of revenue, who has led its business efforts since 2010, is probably the leading internal candidate. Long-time executive Katie Jacobs Stanton should be considered. Dorsey is a possibility, if he wants to turn the reins at Square over to a deputy, such as Gokul Rajaram, a former Google executive. Evan Williams could also potentially run Twitter again; some have suggested that acquiring his new company, Medium, makes some sense.
One question is whether Google will now make a bid for Twitter. The companies recently started working together again, with tweets showing up in Google search results.
Twitter also made another announcement today: That it would remove Twitter's iconic 140-character limit from its direct messaging product. Will Dorsey ditch it altogether? While it was born from necessity, and helped define Twitter as a product, it may no longer be necessary. Messaging, by the way, is another place where Twitter has underperformed. Facebook announced today that its Messenger app now has 700 million monthly active users.
On Twitter's conference call, Costolo said there is never a good time for a transition like this. But he wanted to announce it now so that Twitter could conduct its search in public and think broadly about who should lead it next. "The company has huge unmet potential," Dorsey said on the call, noting that he does not expect any change in the company's current product direction.
"We're looking for someone who really uses and loves the product in every single way," Dorsey said on the call.