Dominique Strauss-Kahn has been acquitted of charges that he acquired prostitutes for a series of sex parties around the world. The 66-year-old former head of the International Monetary Fund (IMF)—and onetime favorite to become the next French president—beat the "aggravated pimping" accusation, it was announced at a court in Lille earlier today.
Strauss-Kahn's trial ended in February, and acquittal was broadly expected after several plaintiffs dropped their accusations and even the prosecutor expressed doubts about the defendant's role in the alleged prostitution ring. "We are working with the penal code, not the moral code," prosecutor Frédéric Fèvre said at the conclusion of the trial.
Strauss-Kahn maintained that he was not aware that the women at a dozen soirées libertines between 2008 and 2011 were prostitutes. Harrowing testimony from the women, who described "beast-like" orgies, generated many unwelcome headlines for the public figure. In his own words, Strauss-Kahn admitted to "have a form of sexuality which is rougher than the average."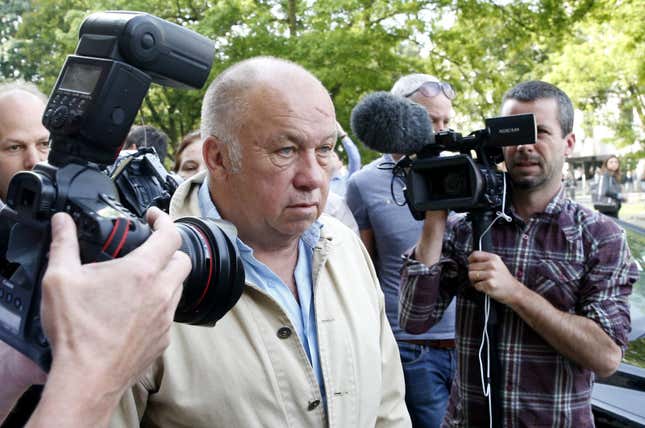 Only one of the 14 co-defendants in the French trial was convicted—a former public relations officer a Lille hotel at the center of the scandal received a one-year suspended sentence. "Dodo the Pimp," as another high-profile defendant, Dominique Alderweireld, was known, was cleared of charges that he supplied prostitutes from Belgium brothels to some of the parties.
Strauss-Kahn has been fighting various sexual-assault proceedings for the past four years. An attempted rape charge that stemmed from a 2011 encounter with a hotel maid in New York was dropped a year later, and a related civil suit settled out of court. That episode put paid to Strauss-Kahn's tenure at the IMF and dashed his political ambitions at home in France.
Since leaving the IMF, Strauss-Kahn has taken up board positions at Russian banks, acted as an advisor to the governments of Serbia and South Sudan, and briefly helped run a hedge fund that went bankrupt after his partner's apparent suicide.