This post has been updated.
May 2015 was an historic month for US egg prices: They jumped more than 56%, the largest increase since the US Bureau of Labor Statistics started keeping track in 1937.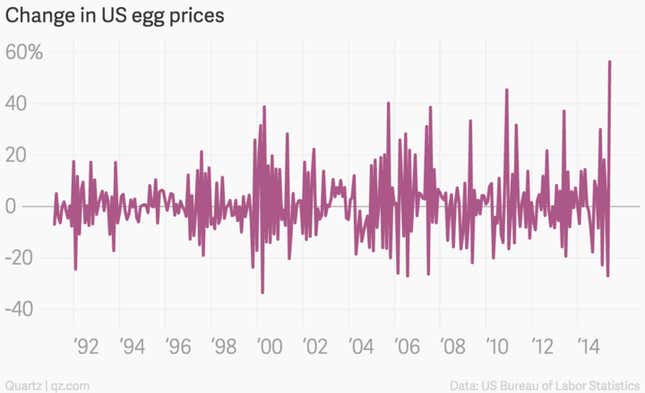 Wholesale prices are up over 200% since 2000.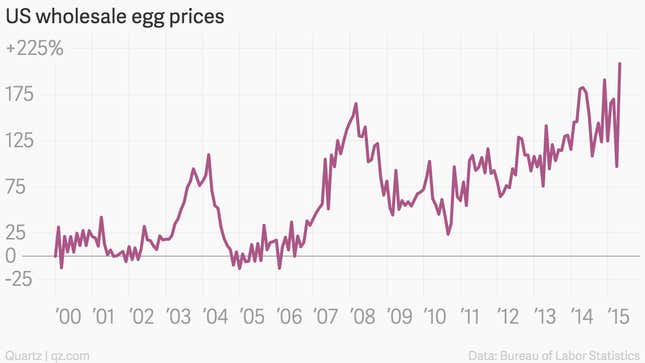 Avian flu, first detected in December 2014, has now affected more than 47 million birds in the US, according to the USDA's latest count. About 35 million of those birds are egg-laying hens, stoking fears of egg shortages, and causing the huge surges in prices. In response, the US will soon begin to allow the import of egg products from the Netherlands for commercial baking and processed foods, the Associated Press reported earlier this week. It will be the first time in more than ten years that the country has purchased eggs from a European country.
Iowa and Minnesota have taken some of the biggest hits from avian flu, but the outbreak has spread far beyond those two major egg-producing states, all the way to California, Oregon and Washington on the West Coast. It has yet to hit the East Coast, but in North Carolina—which has an $18 billion poultry industry—officials are already taking precautionary measures, including banning all poultry shows and public sales scheduled for mid-August to mid-January, ABC reported.
This post was updated with additional data.