Fascination with dinosaurs is a global phenomenon, according to Nick Carpou, president of domestic distribution at Universal.
That's how he explained Jurassic World's incredible financial performance to Variety, which reports that the film grossed $511.8 million worldwide this weekend. That's the biggest opening of all time, and the first movie ever to beat $500 million in one weekend.
Here's how it compares to other blockbusters: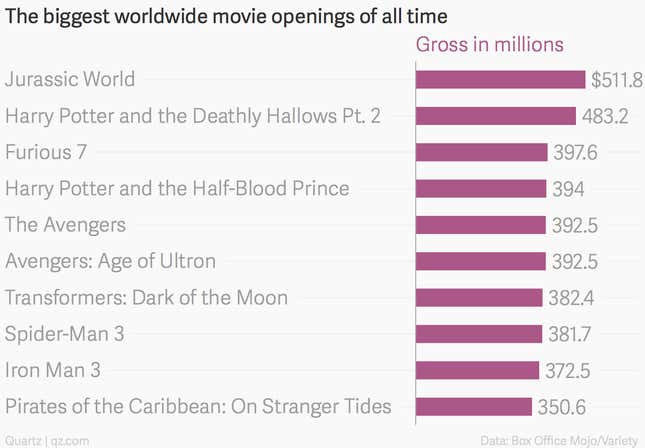 Every film on the list, The Avengers excepted, kind of, is a sequel or member of a series of some kind.
The performance is a boon to Universal, and to actor Chris Pratt's burgeoning career as an action star. But it may only reinforce Hollywood's obsession with sequels and established franchises over new stories.
Pratt, of course, has already signed on for another sequel.
The movie has done extremely well in the United States, taking $204,600,000. That puts it second on the all-time weekend US charts behind The Avengers. An incredible $100 million take in China helped push the numbers elsewhere in the world to $307.2 million (behind only the last Harry Potter movie, historically). The combination pushes Jurassic World into the world's top all-time slot.
This is despite a lukewarm reception from critics. The film got a 70% rating from critics on the review aggregation site Rotten Tomatoes.
"If you limit your expectations for Jurassic World to 'more teeth,' it will deliver on that promise," Christopher Orr wrote at The Atlantic. "If you dare to hope for anything more—relatable characters, narrative coherence—you'll only set yourself up for disappointment."
On the same site, audiences were more receptive than critics, giving the movie an 86% rating.