Back in December 2011, a fleet of electric cars appeared in Paris for the first time. For years, Parisians had rented bikes from shared terminals dotted throughout the capital. Would they do the same with cars?
At the time, it wasn't clear whether the company behind the electric-car fleet would hit its break-even target of 80,000 members. The success of the service, which now has more than 150,000 members, has inspired London. Ten electric cars were unveiled in the British capital last week—painted the same distinctive red as buses, post boxes, and phone booths in the city. The plan is to reach 3,000 vehicles over the next five years, making it the same size as in Paris.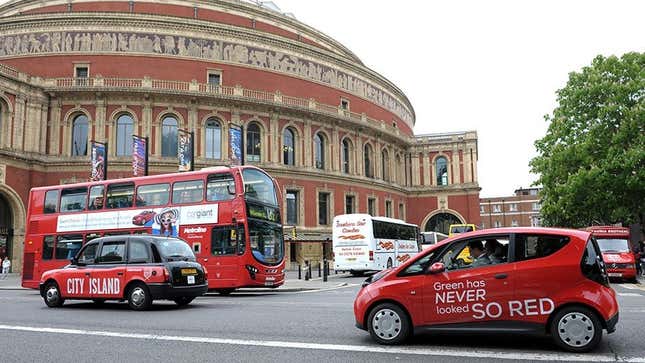 Bolloré, the company behind Paris's Autolib' car-sharing service, said at the 2011 launch that it wanted to see fewer Parisians driving polluting petrol and diesel cars through the already-choked streets of the French capital. It appears to have worked, on two fronts. Membership of the sharing service has risen, representing journeys that may have otherwise been taken in fossil fuel-burning vehicles; and more residents have been encouraged to buy electric vehicles for themselves, effectively making all of their journeys electric.
Between the fourth quarters of 2013 and 2014, electric cars registered in France rose by more than 50%:

This is despite a stagnant overall car market. The French bought only 2.3% more cars in the first quarter of 2015 than the same quarter the previous year, according to the European Automobile Manufacturers Association.
In the UK, electric car buying is already on the rise. This is especially true for electric cars which users plug in to charge (as oppose to hybrid cars that use a mixture of electricity and conventional fuel). In January, the number of plug-in car registrations increased by 300% from the previous year:

In part, this rise is due to a grant available to plug-in car buyers. It remains to be seen how well electric car sharing will work in London's cramped and complex traffic ecosystem when it launches early next year—and whether it will mean fewer Londoners buying cars, or more becoming converts to the electric generation.