Boeing recently shared a market outlook that forecasts the world fleet doubling in size from 2015 to 2034, with airlines ordering about 38,000 new planes, to the tune of $5.6 trillion. The outlook's geographic breakdown of where new planes will be delivered during that period is revealing: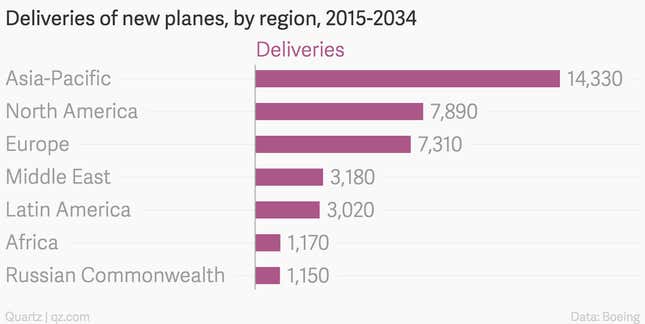 Boeing expects deliveries to the Asia-Pacific region to hit 14,330, compared to North America's 7,890 and Europe's 7,310. Looked at another way, the Asia-Pacific region will see more deliveries than North America, Latin America (3,020),  the Russian Commonwealth (1,150), and Africa (1,170) put together.
Boeing had a record year in 2014, thanks in no small part to Asia, including orders for 60 737s from Air China in December (valued at more than $6 billion) and 40 wide-body planes from All Nippon Airways in July (about $13 billion). This month Garuda Indonesia said it will buy 30 787-9s and up to 30 737 MAX 8 from the airplane maker.
More broadly, the global airline industry has enjoyed five successive years of profit (paywall) as passenger traffic recovered after the recession, according to the Wall Street Journal. Carriers have responded by ordering thousands of new planes.