The healthcare industry is at a critical juncture. The global population is growing and the median age is rising. Growth of the middle class in emerging markets is surging. The demand for healthcare services has never been greater, and the entire world is a marketplace. Ideally, companies should be moving fast to strategically change their supply chains and capitalise on new opportunities. But change is often easier said than done.
To understand how these economic and industry trends are influencing and challenging global healthcare companies' business operations and supply chains, UPS® surveyed logistics executives for their seventh annual UPS Pain in the (Supply) Chain survey. The findings are presented below.
Current state of the industry
Adverse economic conditions still weigh on healthcare companies. For example, in Western Europe, 43 percent of supply chain decision makers report feeling the effect of the Great Recession in terms of tightened spending and other reductions or cutbacks.
Additional trends, such as regulatory reform and shifting reimbursement models have left logistics executives facing a number of issues within their supply chains.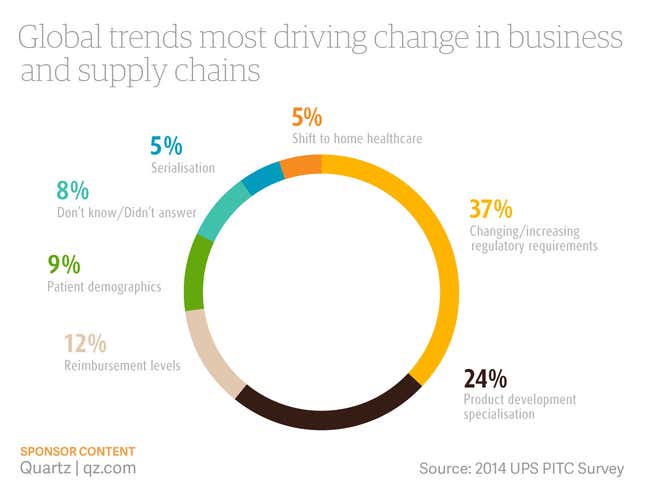 One of the most persistent current concerns is cost management. 44 percent of respondents cite it as an issue likely to impact their business moving forward. To contain costs, 78 percent are developing tighter partnerships with logistics and distribution providers, 66 percent are ramping up technology investments, and 62 percent are outsourcing transportation management.
Emerging challenges
The survey also reveals the emerging challenges that may hamper growth in the healthcare industry. These major challenges include a growing regulatory environment, an increasing need for product protection, and a lack of contingency planning in the event of supply chain disruptions.
Complying with regulatory requirements is often difficult. The rules have changed—and keep changing. The situation in Europe is particularly pronounced; both the upcoming Falsified Medicines Directive and the revised Good Distribution Practices (GDP) guidelines will require increased supply chain management and more vigilant documentation processes. While various measures, such as bringing in regulatory expertise through new partnerships, have proved helpful, such strategies are still underutilized. Coping with this shifting compliance landscape will require significant expansion of these efforts.

In addition to regulations, product integrity and product security (collectively referred to as "product protection") are top issues for logistics executives. Integral to the challenge of product protection is poor supply chain visibility. As supply hand-offs increase and chain insights decrease, staying ahead of counterfeiters and preventing spoiled or damaged goods becomes increasingly problematic. In fact, 48 percent of respondents believe counterfeiting efforts outstrip the industry's current counter measures.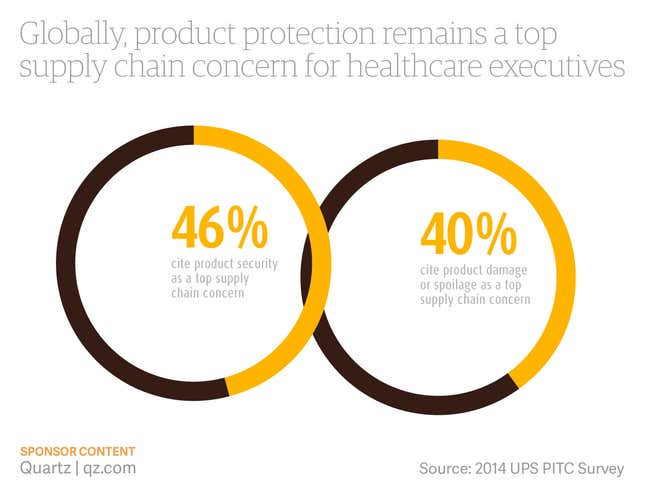 A final overlooked emerging threat is that of supply chain disruption. Survey findings suggest a greater focus on contingency planning is required within the industry—while only 26 percent of respondents cited supply chain interruption as a top concern, fewer than four in ten could report successful contingency planning efforts.
Looking forward
The winners in tomorrow's healthcare marketplace will be the companies that have created agile, efficient, and flexible supply chains capable of tackling these emerging challenges. To see the strategic solutions survey respondents are exploring, read the rest of the survey here.
This article was produced on behalf of UPS® by the Quartz marketing team and not by the Quartz editorial staff.