For years it seemed like AirAsia could do no wrong. Based in Kuala Lumpur, the low-cost carrier quickly grew from a two-plane startup in 2002 to a regional powerhouse that carried 50 million passengers last year. But the company has recently lost much of its shine.
In late December one of its planes crashed into the Java Sea. And on June 10, a report by Hong Kong-based GMT Research questioned AirAsia Group's accounting practices. According to Reuters, the report—under a press embargo until June 24 but available to GMT subscribers—claims that AirAsia used transactions with associate companies to boost earnings. The airline's already-weakening stock has plummeted since: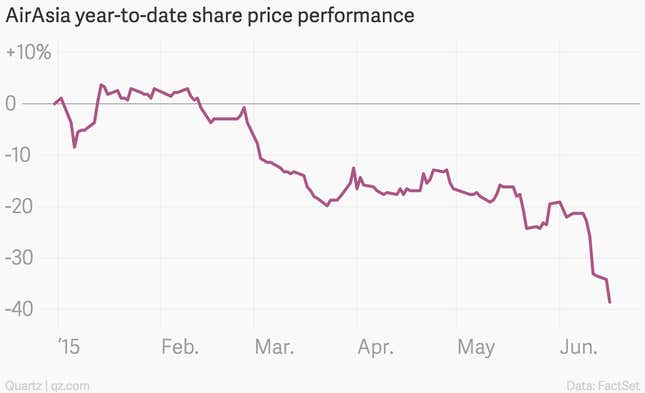 Tony Fernandes, AirAsia Group's CEO, told reporters at the Paris Air Show today that he was shocked by the report. "For anyone to be doubting our transparency, it shocks me," he said, and promised a record year of profits.
The report questions AirAsia's "accounting, profit generation, cash flow issues, leverage and group structure," GMT said in a June 12 press statement, which emphasized that GMT is a research house, not a trader. The company is in the business of producing "clearly actionable and money-making ideas" for its clients, it says on its website. (In other words, GMT is not a short-seller, but its clients may be.)
AirAsia did not immediately respond to questions from Quartz.
The company plans to raise funds for its loss-making Philippine and Indonesian associate airlines, issuing as much as $150 million in convertible bonds at each, Fernandes told investors this week, according to Reuters. And he added the airline might sell planes to cut group debt.
Maybank analyst Mohshin Aziz dismissed the GMT research, telling clients in a June 13 note that he believes the airline's accounts are "transparent," and reiterating a "buy" rating.