Despite the economic slowdown, China experienced a boom in new millionaires last year. That helped push the private wealth of the Asia-Pacific region past that of Europe and close to overtaking North America.
According to a new report by the Boston Consulting Group (BCG), the number of millionaires in China rose from 3 million to 4 million in 2014, propelled by growing investment in domestic equities.
Private wealth-holders in the Asia-Pacific region, which excludes Japan, have been proliferating for several years. The region's private wealth increased by 29% in 2014, surpassing strong private wealth growth in other emerging markets like Eastern Europe (19%) and Latin America (10%).
Wealth growth in emerging markets has eclipsed that of "old world" regions like North America, where growth remained in the single digits, 6% and 7% respectively, according to the report.
If the private riches of the Asia-Pacific region continue to rise as predicted, they will reach $57 trillion in 2016, surpassing those of North America, which BCG projects will reach $56 trillion.
For now, North America remains on top.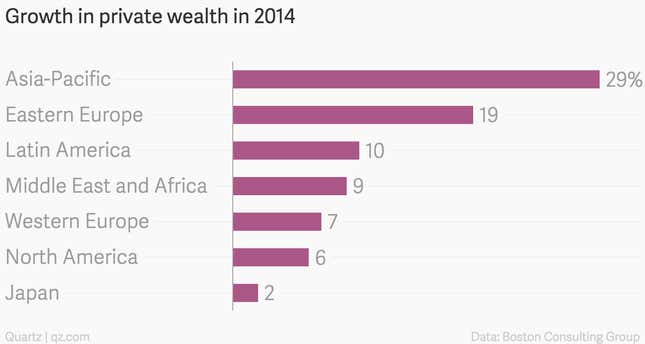 The US also boasts the highest number of ultra high-net-worth individuals (those with a net worth of at least $30 million), nearly five times as many as those in China.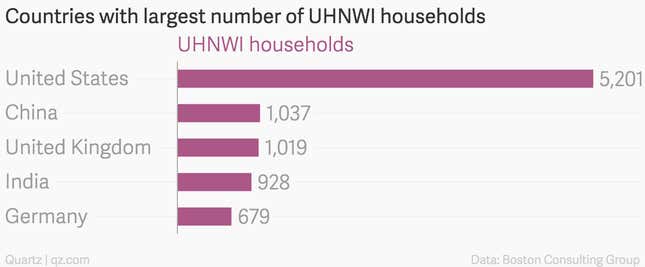 Switzerland has the highest proportion of millionaires relative to its population size, with 135 of them per 1,000 households, followed by Bahrain, Qatar, Singapore, Kuwait, and Hong Kong.