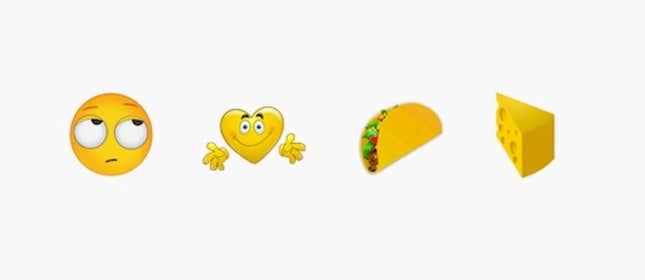 Taco fans, rejoice: The taco emoji is finally here.
Emojipedia confirmed today that 37 new emoji characters will be included in Unicode 8.0, the computing industry standard for maintaining consistent text across languages and computers around the world. The new standard will be released tomorrow, June 17.
Being included in the Unicode standard doesn't guarantee that the emoji will be adopted by Apple's iOS, Google's Android, and other mobile operating systems, which maintain their own emoji character sets, but it's a good sign. Future updates are likely to include at least some of the new emoji.
The addition of the taco emoji represents a major victory for Taco Bell. In December, the fast-food chain launched a Change.org campaign to lobby the Unicode Consortium—the nonprofit the develops, maintains, and promotes international software standards (including emoji)—to include tacos in its character set. It even launched an online store to sell T-shirts supporting the cause and ended up getting more than 30,000 signatures. From the petition:
Why do pizza and hamburger lovers get an emoji but taco lovers don't? Here's a better question: why do we need four different types of mailboxes? Or 25 different types of clocks? Or a VCR tape and floppy disk emoji? No one even uses those things anymore.
But it's not just the taco that's finally getting its due. The burrito is as well (Chipotle must be pleased), along with a cheese wedge, hot dog, popcorn, and turkey. To help convey sarcasm, which can get easily lost in text, Unicode 8.0 will also include a face with rolling eyes. There are also new symbols of religious significance: prayer beads, mosque, synagogue, Kaaba, menorah, and a generic place of worship.
Thank God—err, the Unicode Consortium.
.