In hopes of keeping young people content in the small town of Folkestone, England, billionaire Roger De Haan has commissioned construction of a local skateboarding park. It's not the kind of building you'd expect to find in an old town on the English Channel.
According to recently unveiled design plans, this will be a futuristic, over-the-top building, featuring the world's first multi-story skatepark. Guy Hollaway, the architect behind the project, told Dezeen magazine that the park's installation is supposed to prevent "brain drain" as many of the area's youth move elsewhere:
"If you make childhood meaningful through education, sport, recreation then it's more likely that they'll invest in their town and the future and stay and maybe bring up their own children in that town – that is what true regeneration is about."
If and when the project is completed, skaters (of many types) and other "urban sports" aficionados will be able to zoom around a giant bowl on the top floor of the building with a five-meter drop. The top floor will connect to the lower levels with a series of ramps and an elevator. Three lower levels full of curving concrete ramps, ledges, and moguls will be encased in a metal mesh for light and ventilation.
"It sounds dangerous doesn't it?" Hollaway told Dezeen. "We're shrouding our children in what feels like rubber to protect them all the time, but I think—as the world becomes safer—a controlled adrenaline facility is what people will demand."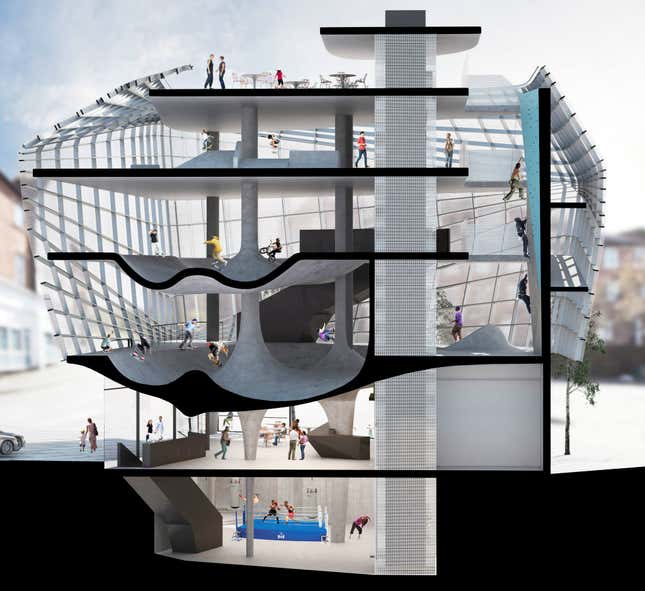 Hollaway's website says the park, or "centre for urban sports," will be used for skateboarding, rollerblading, BMX biking, and scootering. Local youth will have access under "heavily subsidised rates."
There will also be a rock climbing wall, a café, and a first-aid office within the cavernous five-story building. It's scheduled to be completed by 2017.