A Chinese billionaire is building one of the world's largest engineering projects, a canal in Nicaragua that is three times the size of world's largest, the Panama Canal, and is estimated to cost at least $50 billion. Of the many Chinese infrastructure projects spanning the globe, the new canal seems to make the least commercial sense.
Few shipping industry observers forecast a need for a second canal in the region, and the canal is being built to accommodate extra-large bulk cargo ships that aren't commonly used yet, and may never be popular. As initial construction for the project gets underway, violent protests are breaking out among Nicaraguans who object to losing their land or seeing Central America's largest freshwater lake, Lake Nicaragua, be dredged.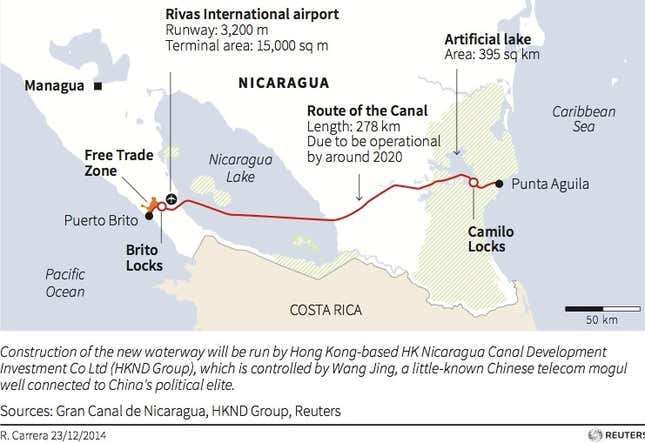 A Chinese-managed canal would give the country a foothold in a region that has traditionally been within the United States' sphere of influence. The projected depth of the canal, 28 meters, is more than twice the Panama Canal, and deep enough to allow Chinese submarines to secretly cross over to the Atlantic Ocean from the Pacific, as Foreign Policy observed last month.
Moreover, the billionaire behind the project, Wang Jing is a telecom tycoon with more experience in Chinese medicine than massive infrastructure projects.
So why is he pursuing it? One theory is that the Chinese government is backing the project for geopolitical reasons, and particularly to challenge the United States. Wang hasn't disclosed the investors willing to front the needed $50 billion.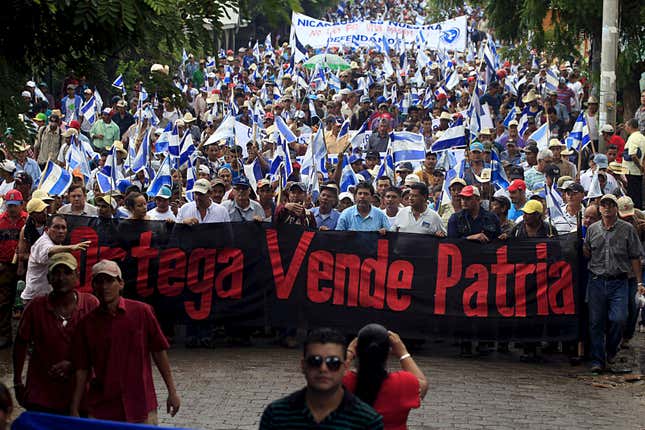 So far, there's no conclusive evidence that is the case. Wang, one of China's richest men, once worked for a government telecom company, but is not known for especially close links to the Chinese leadership. Beijing seems wary of a project that could step on America's toes, risk advisory consultancy Statfor observes. State-owned companies have also steered clear of the project because Nicaragua does not have formal diplomatic relations with China. (Nicaragua is one of the few remaining countries that still recognize Taiwan.)
The most credible explanation is that it's not just the canal, to be finished in 2019, that interests Wang. The canal will be at the center of a network of ports, roads, and free trade zones that the billionaire also plans on building. Nicaragua, which Stratfor lists as one of 16 countries that could replace China as major low-cost manufacturers, makes sense. With a base there, Wang and other Chinese companies can take advantage of cheaper production and access to Mexico, the US, and South America.