Travel to South Korea has slowed dramatically since last month's outbreak of Middle East Respiratory Syndrome (MERS). More than 160 people across the country have been infected with the virus, and 20 have died.
Internationally, the net bookings for air travel to South Korea—that is, bookings minus cancellations—dropped by 165% in the week of June 6, when compared with the same period a year ago. (That means that there are now many more cancellations than bookings, resulting in negative net bookings.) This data comes from research firm ForwardKeys, which predicts future travel patterns by analyzing reservation transactions.
By region, the biggest year-on-year drops have come from Northeast Asia, followed by the rest of Asia. But every region recorded a sharp decline: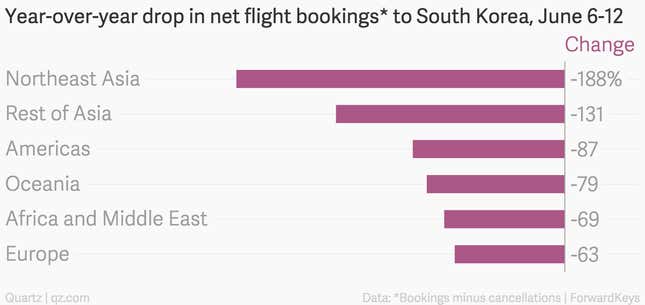 The World Health Organization says that more cases of MERS are likely to emerge in South Korea, according to the Wall Street Journal (paywall). But while the infection rate continues to climb, health officials believe the outbreak is largely contained because new cases are appearing among people already under quarantine.
That said, it looks like travellers to South Korea are playing it safe and postponing their trips, if not cancelling them altogether.