Denmark goes to the polls for a general election tomorrow, and its prime minister, Helle Thorning-Schmidt, will try to win a tightly-contested race to hold onto her place not only as the country's leader, but also as one of the few European female heads of state.
Gender equality is important to the Nordic countries: Political parties in Sweden, Norway, and Iceland all have gender quotas (pdf), which helps promote female candidates for top roles. And when she was elected in 2011, Thorning-Schmidt said she would promote more women to senior positions in government. But in fact, female participation has fallen on her watch: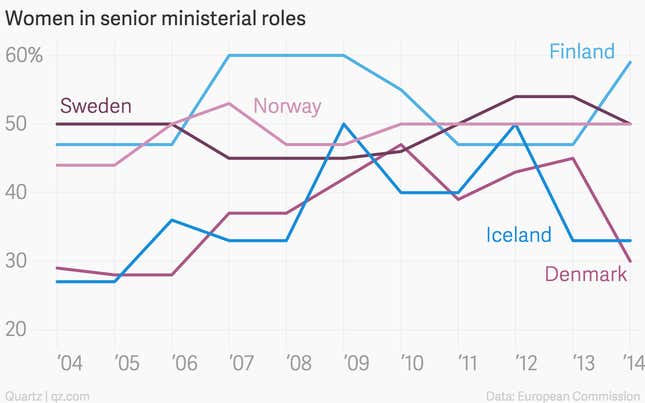 Denmark has the worst record of the Nordic countries for female representation in senior ministerial roles: At the end of 2014, only 30% of its senior ministers were women. According to Bloomberg, Thorning-Schmidt has also failed to follow through on her campaign promises to split parental leave more evenly between mothers and fathers, and to require corporate boards to have female directors.
Denmark's gender representation may compare unfavorably to its neighbors, but the Nordic block is still way ahead of most of the rest of Europe. No non-Nordic country has yet achieved parity between the sexes in senior government posts, although France, Estonia, Slovenia and Italy are within ten percentage points of doing so.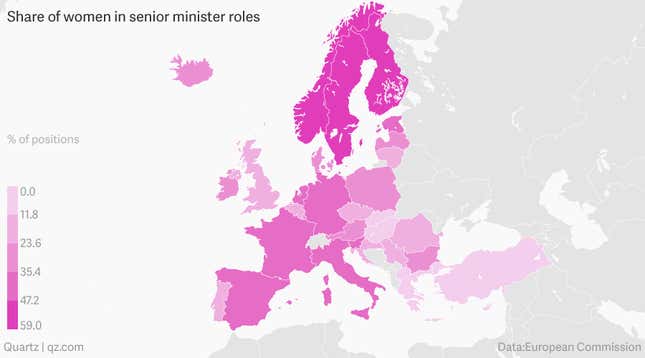 For those at the bottom, there's a long way to climb. In nine European Union countries women hold less than a fifth of ministerial positions, and two—Hungary and Slovakia—have no women at all in those roles.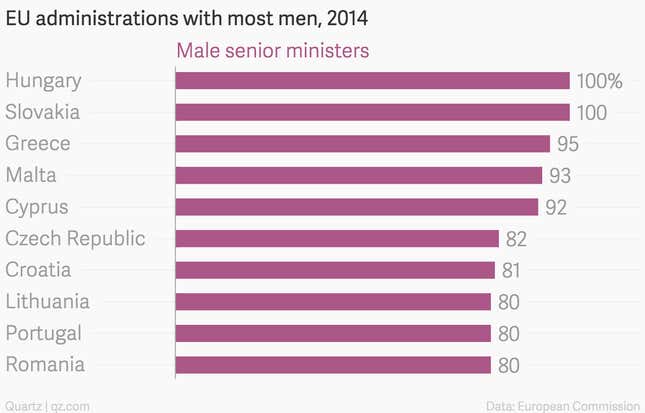 As Danes have found out, having a female head of government does not necessarily lead to a higher proportion of women in positions of power. However, there has been a steady increase in the number of women in the top job. In 2005, when Angela Merkel became chancellor of Germany, she was the only female EU leader. Since then, Norway, Finland, Latvia, Poland, Slovenia, Iceland, Slovakia, and Croatia have all elected female prime ministers.