For years, things have been tricky in the UK oil industry. The North Sea once provided a flow of relatively easy wealth to the mainland. The region's oil powered much of the UK's infrastructure and was plentiful enough to be exported all over the world.
But with much of the most accessible oil used up, explorers are having to pump more money in to get every drop out, making for a more technologically intensive, and less rewarding, business.
The problem was exacerbated by oil prices falling suddenly last year, from over $100 a barrel in July to around $65 a barrel today, as the recession lowered demand and US production increased supply.
Lower prices mean the industry is facing "real and present threats that are challenging our future," said Deirdre Michie, chief executive of industry body Oil and Gas UK, and the company's conference in Aberdeen today.
Optimism in the industry has indeed plummeted, according to a survey (pdf) by the same body, which bases its analysis on nine questions posed to participants each quarter: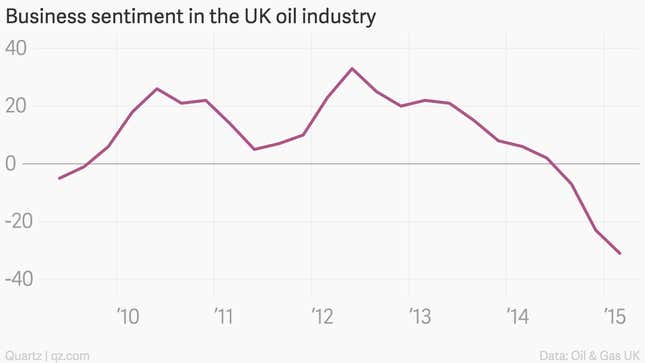 "At $60 oil, 10 per cent of our production is struggling to make money and there is a shortage of capital and a shortage of investors willing to place their money here," Michie said. The UK's oil infrastructure is older, and the oil that's left is harder to reach than that of regions like the Middle East and the US, which puts UK producers at greater risk when oil prices fall.
Still, much of the world's oil remains profitable at current prices. A January report from Wood Mackenzie suggested that only a sustained drop to $40 a barrel would make oil more scarce globally. But the firm also cautioned that about $3.2 billion of investment in new projects in UK waters was at risk from low prices.
There are still 20 billion barrels of oil to be mined in the North Sea, according to Michie. The question will be whether anyone can afford to extract it.