As a throng of First Choice VIP cardholders jockeyed for position outside of Art Basel on June 17, anticipation was high—and not just for the estimated $3 billion worth of art shown by 284 galleries on the other side of the doors. This year marks the largest reshuffle and repositioning the Swiss mega-fair has undergone in its last 10 editions, with 57 galleries that hold a coveted spot on its ground floor having changed locations from the year prior.
The shift reemphasizes dealers of classical Modern and postwar works. For the past pair of editions, a number of those dealers had complained of being continually pushed towards the back of the fair, and thus away from collectors' attention—some even suggesting that it was a move to push them out entirely, in order to make way for more blue-chip and emerging contemporary dealers in this high-impact real estate.
Director Marc Spiegler has thoroughly rebuffed those suspicions this year, dedicating the entire right side of the ground floor to works primarily created from 1900–1970. "The new floor plan brings many galleries showing such work in closer proximity to each other," said Spiegler. It's an effort to create a far stronger focus on the historical works that are "becoming rarer and rarer yet remain an essential part of the Basel show."
The move is a shrewd one—and not only in terms of retaining exhibitors. Despite Spiegler cautioning that the sky-high prices that have become the auction market's new norm aren't indicative of those in the art world at large, recent sales have shown a clear tendency towards landmark works from the late 19th and first half of the 20th century, especially among new collectors from emerging markets.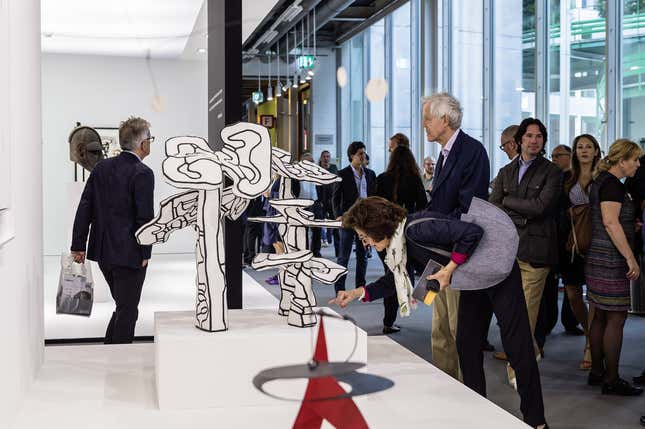 If you want to see that tendency embodied at Art Basel, look no further than Helly Nahmad's booth. Last year, the dealer wooed collectors and mere observers alike with an island of Calders set in the middle of the booth. Though a host of Picassos hang in the main portion of the stand this time around, Nahmad's treat takes a bit more of a search. Head to the back of the booth and turn right to find a small, white-carpeted annex in which hangs Mark Rothko's Untitled (Yellow, Orange, Yellow, Light Orange) (1955; a year in which the artist only made 22 works, more than half of which are in museums), Claude Monet's Nymphéas avec Reflets de Hautes Herbes (1914-17), Picasso's Le Tremplin, 22 July (1957), and Joan Miró's Soirée snob chez la princesse (ca. 1946). The Rothko comes with the primo provenance of the Bunny and Paul Mellon collection. Helly's father, David, picked up the painting at Sotheby's last November for $36.6 million, above a $30 million high estimate. (Another Mellon Rothko sold for $46.5 million at Sotheby's this spring—admittedly at the low end of its pre-sale estimate.)
"We have to bring clients for classical Modern back to the fair," said Galerie Thomas director Heike Grossmann, noting the importance of the move to reemphasize the segment. Among a stellar offering of artists from Chagall to Beuys, two works at the booth stood out as particularly primed for purchase: Ernst Ludwig Kirchner's posthumous Portrait of Leon Schames (1922), a dealer who began showing the artist in 1916, for which the gallery was asking €3.8 million ($4.3 million), and Max Beckmann's Small Revolving Door on Yellow and Rose (1946), which was produced during the last year of the artist's exile in Amsterdam before moving to the States (asking: €1.64 million).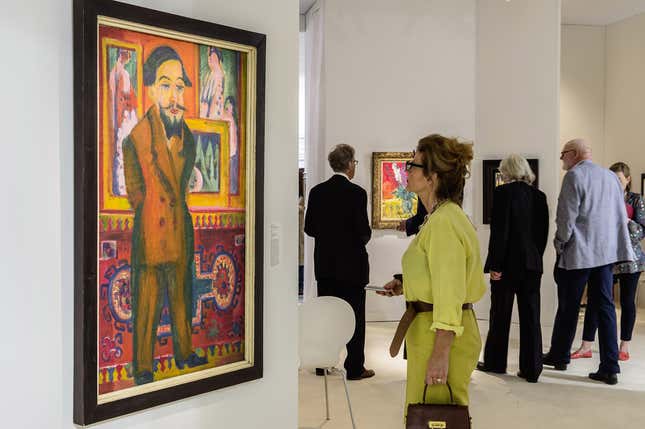 Dealers at this early end of the historic works that Art Basel has now reemphasized suggested that despite improvement this year, it may take a few years before demand comes back fully. But just down the hall, at Skarstedt, the pace of sales was feverish. "It's been a fantastic fair for us already," said partner Bona Colonna Montagu, noting sales of a 94-inch square Keith Haring (Untitled (June 1, 1984) (1984)) in the realm of $5 million and an untitled Albert Oehlen from 1992 for around $1 million, among others. Comparing the urgency of buyers at Art Basel to that of an auction room floor, she suggested the shakeout in layout hadn't changed their prospects: "I think each booth creates its own energy. People today come to see particular galleries and particular works. They tend to be quite focused and quite well informed."
Nonetheless, galleries that two years ago might have hung fresh-from-the-studio presentations often hedged older this time around. Pace sold out of their presentation of Robert Rauschenberg pieces from the 1980s and early 1990s, priced between $450,000–1,000,000. (The gallery now represents the Rauschenberg foundation along with Thaddaeus Ropac and Luisa Strinta.)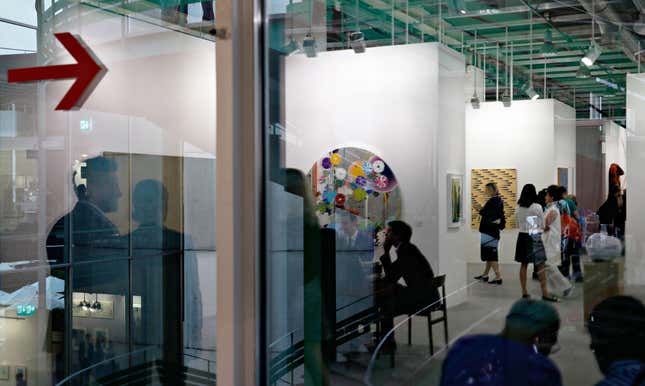 Among other news of the day, Hauser and Wirth announced their representation of Italian sculptor Fausto Melotti. "There is definitely a great appetite for the Modern and postwar masters that we're showing on the booth," said executive director James Koch, noting Melotti's relatively recent reassessment in the art world that now sees his work in several booths across the fair. "The Modern giants within our family of artists relate very closely to our living artists, so it tells a story when they sit side by side," Koch added.
As day one wound to a close, an untitled sculpture from 2004 by Louise Bourgeois led their tally at $2.5 million, a fabric piece by the artist from 2007 also selling for $350,000. Mike Kelley's Untitled (stuffed animal mandala) (ca. 2004–2006) was acquired by an American museum. (Art Basel marks the first time the work has been shown in public, having hung above the artist's couch until his death in 2012.) A trio of works by Eva Hesse (whose biopic is soon to make the festival circuit) are also particularly worth a look. Few pieces by the artist come on public offer—prime works are rumored to be selling privately for upwards of $15 million—the very kind of scarcity pushing Spiegler to shed more light on past decades.
This post originally appeared at Artsy.