Updated: 7:20am ET on June 18.

The Charleston, South Carolina police department is searching for a young, white man after a shooting that killed nine people at Emanuel African Methodist Episcopal Church:
Charleston police chief Gregory G. Mullen told reporters "I do believe this was a hate crime." The church's pastor is among those who were killed, NBC News reports. Unconfirmed reports from witnesses on the scene that the shooter came into the church and joined a bible study group there, then started shooting. One woman and her 5-year old grandson reportedly survived when she pretended to be dead and covered the child.
Police released photos and a description of the suspect on Facebook: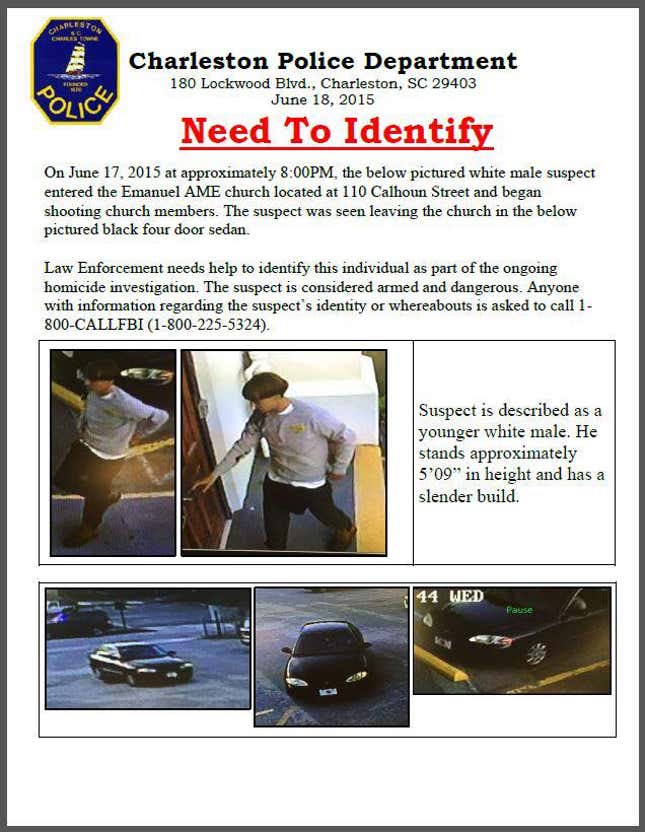 The church, which calls itself the "oldest African Methodist Episcopal church in the South" has been located at the 110 Calhoun street address broadcast by police since the 1800s, and its roots date back to before the 1865 abolition of slavery.
"The gunman "just entered the church and opened fire," local pastor Thomas Dixon told CNN.
Local television news on the scene reported emergency medical service vehicles and a large police presence.
https://twitter.com/jtighe08/status/611351161074020352
Outside the church, prayer groups formed after the shooting in a nearby parking lot: