More than 100,000 migrants have made the treacherous journey across the Mediterranean to Europe in the first half of this year alone. Fleeing war, persecution, and other hardships, these desperate refugees risk life and limb to reach the EU.
Some 185,000 people applied for asylum in an EU country in the first quarter of this year (pdf), a 90% jump from the year before: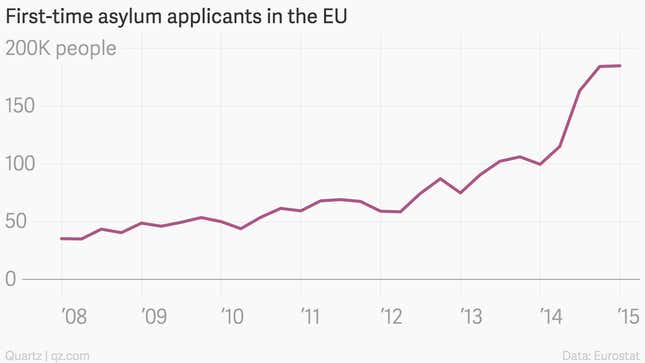 EU countries are fighting over how to address the influx of migrants, with disagreements over a proposal to set quotas for distributing the would-be refugees washing up in Greece, Italy, and other Mediterranean countries proportionately throughout the bloc. Part of the problem is separating genuine humanitarian refugees in need of refuge from those who migrate for purely economic reasons.
A big reason behind the recent jump in asylum applications is a massive inflow of Kosovars overland to Austria, Hungary, and Germany, apparently drawn by vague "rumors of relaxed rules." First-time asylum applicants from Kosovo accounted for a quarter of the EU total in the first three months of the year, which together with war-torn Syria and Afghanistan comprised half of applications over the period: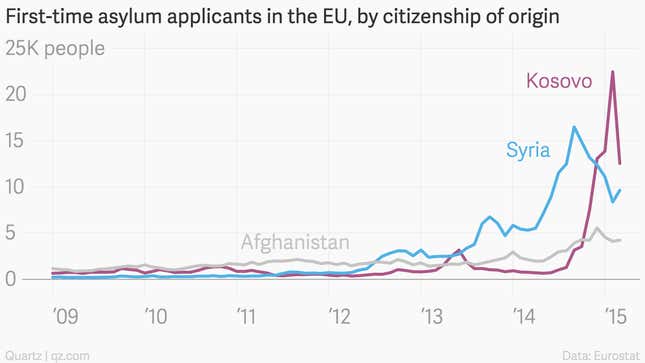 Germany, which received 40% of all asylum applications in the first quarter, recently introduced a fast-track decision procedure which has discouraged Kosovars, who are largely considered economic migrants, from coming. The daily number of applicants was down below 100 in April, from 1,500 in February, according to Deutsche Welle. For it's part, Hungary is planning to build a fence along part of its border with Serbia to deter migrants.
Fully 99% of asylum applications from Kosovars are rejected, according to the latest statistics. By contrast, only 6% of Syrians, 10% of Eritreans, and 12% of Iraqis had their asylum pleas turned down by EU countries in the first three months of this year: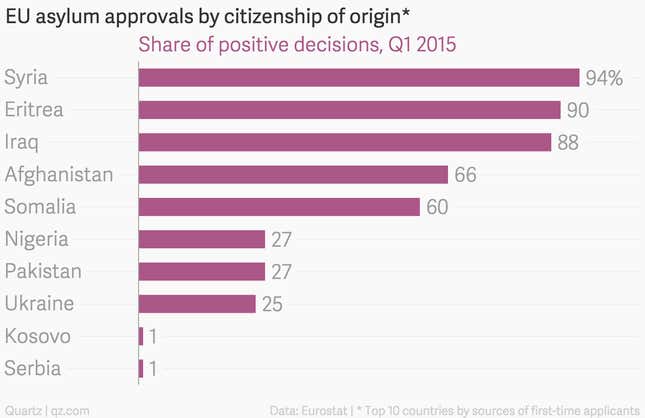 Some countries seem more amenable than others, although the particular mix of migrants that a state receives invariably plays a role (for example, nearly 23,000 Kosovars turned up in Hungary in the first quarter). Still, it would seem better to seek asylum in Denmark, which recently accepted nearly 90% of first-time applications, than Spain, which approved only a fifth: