As of January 1, Beijing and Shanghai have dropped visa requirements for tourists in town for 72 hours or less. That offers the perfect opportunity for travelers in transit to have a little guilt-free fun. The Great Wall is a little too far for a short visit – plus, it's winter and the bitter cold winds come from Siberia. Everyone does the Forbidden City and the Temple of Heaven.
Instead, try quirky Beijing. You'll still get a real tourist experience, but you'll also have bragging rights for activities that go beyond the usual sightseeing route. Here are a few suggestions for what to do and where to go: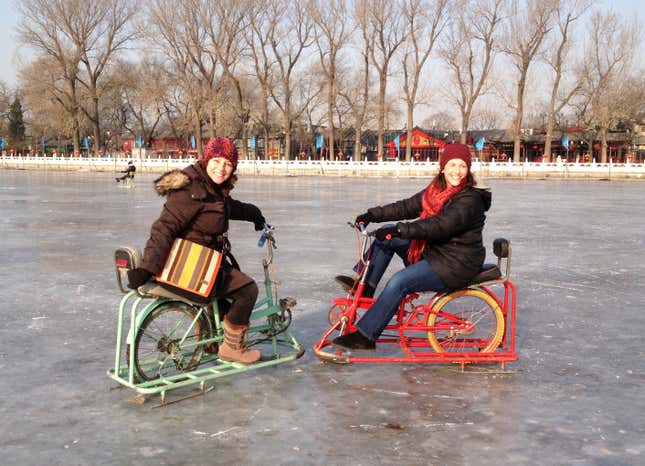 1) Try ice-biking on Houhai Lake. Frigid temperatures mean that Beijing's chain of lakes not far from the Forbidden City freeze solid, allowing for winter sports you might not see anywhere else. On Houhai, visitors can rent ice bikes (40 RMB, $6.43, an hour), which are fitted with wide blades and pedals, allowing a rider to careen across the wide-open ice. For the less adventurous, there are also chairs with blades, propelled by long sticks, bumper cars on blades, and traditional ice skates to rent. One end of the lake is a kiddy area with creepy lifelike dolls that can pull a small child in tight circles. On one side of the lake there's an ice slide that offers a speedy and teeth-jarring ride to the bottom for 5 RMB (80 cents).
2) Walk over a vast map of Beijing at the Beijing Planning Exhibition Hall, not far from Tiananmen Square in the heart of the city. The highlight is a 302-square-meter floor map of this city of 22 million, set on a scale of 1:750.

3) Tiananmen Square is stark and wind-swept during the day, so the best way to take it in is to head to Capital M, a western-style restaurant, at night to look at Tiananmen's gates and walls lined with lights. A glass of Prosecco is 78 RMB ($12.53). The restaurant also offers an afternoon tea, weekend brunch, and an extensive wine list.
4) You can't get any closer to the heart of Beijing than at Black Sesame Kitchen, tucked away in a dark and difficult-to-find hutong corridor. Turn right at the Wiggly Jiggly. This is not a place for last-minute diners, but those who reserve ahead of time are treated to a show. The communal "wine and dine" (300 RMB, or $48, a person) on Wednesday and Friday nights gets diners a 10-course meal and free-flowing New World wine, made by Chef Zhang in front of them, as they sit at tables and watch the show in the tiny kitchen. The menu changes with the seasons, but diners can usually count on pan-fried dumplings at the beginning of the meal and house-made black sesame ice cream at the finish.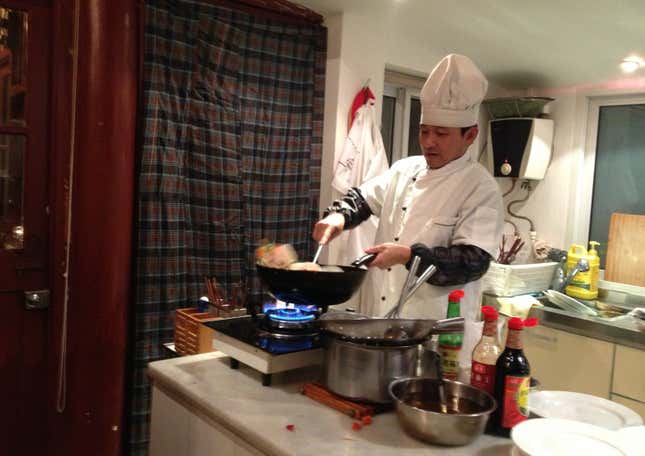 5) Go underground at the Beijing Liao and Jin City Wall Museum in Beijing's Fengtai district, built over the ruins of a city wall dating from 1115 to 1235, one of the few segments of the wall not destroyed in the Mao era. A giant water gate, which controlled the flow of ancient canals into and out of the city and limited flooding in a way that Beijing could use today, is the highlight of the visit.

6)Take a trek out to Beijing's hip art district, 798 Art Zone, a former factory area that has been converted into a center for art galleries, chic boutiques, and restaurants, including some of the best sushi in town at Time Zone 8 Sushi Bar. Peek into galleries where Maoist slogans in red are still visible on the old factory walls, check out the giant red caged dinosaurs, and pick up a pottery mug or a designer dress.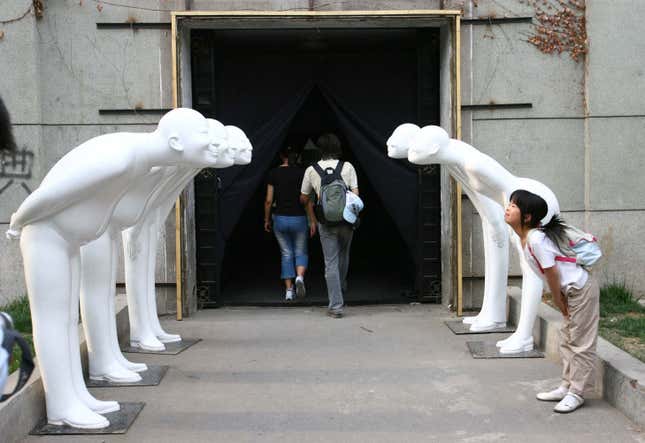 7) Dine on Ghost Street (Gui Jie), a red-lantern-dotted street near the Dongzhimen metro station. Some say the name comes from confusion over the Chinese pronunciation of Gui Jie, which sounds like the Chinese word for ghost. Others say the lanterns create a ghostly atmosphere. No matter: This is where local Chinese come to dine on spicy Sichuan food till late at night. This is also a great place to try Beijing's famous street food, such as chuan'er, grilled meats and seafood served up on sticks, or piping hot sweet potatoes roasted over a metal barrel.