London is one of the world's most vibrant cities, but nights out in the capital often take on a strange character. At many events, a big group of people will abruptly dash off all at once, just before midnight. The city's size and sprawl means that getting anywhere quickly relies on the London Underground network, or Tube, which shuts shortly after midnight from most central stations.
Those that keep the party going subject themselves to the whims of the city's overloaded and inadequate overnight transport options. These revellers are subjected to the mind-bogglingly long and surreal journeys by the infamous Night Bus. Invariably, it will involve a transfer at Trafalgar Square, thronged with tired partiers picking at takeaway food and holding forth in semi-coherent, shouted conversations. After jostling to fit in a jammed bus, nocturnal commuters are often rewarded with someone falling asleep on their shoulder, and drooling.
After September 2015, however, it will be a different story. The Tube is going to run all night—although the change will be confined to weekends and selected routes.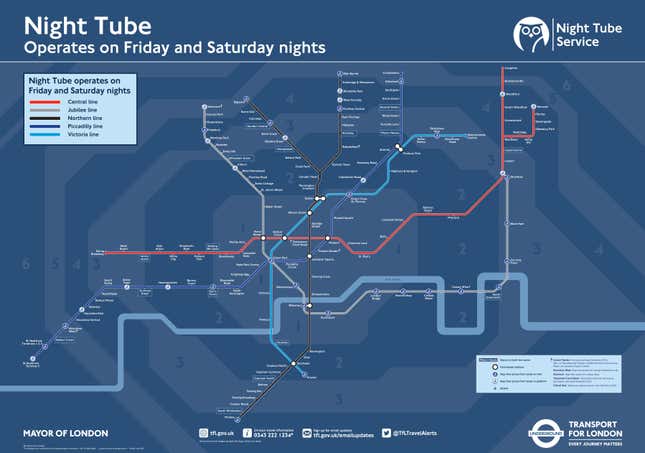 From the small hours of September 12, two lines—the Jubilee and Victoria—will run a full service through to the next morning. Three more—the Northern, Piccadilly and Central—will run trains on parts of their lines.
It will change the character of the city. Transport for London (TfL), the capital's transport authority, says that demand for Tube services has soared in the last ten years, especially on Fridays and Saturdays, when half a million people make journeys after 10pm. The new service will add £360 million ($570 million) to the economy over 30 years, according to a study (pdf) commissioned by TfL, which also found that London was falling behind other metropolises.
"London has never had an overnight underground service. In providing one, London will join New York, Chicago, Stockholm, Copenhagen, Berlin and Sydney, which all offer night time metro services to differing extents," the study said. Tokyo and Paris are both considering an equivalent service, they added.
Of course, not everyone is happy. London Underground operators will now be required to work all night. Drivers have recently voted to strike over pay conditions and the introduction of the new hours.