Despite positive growth in the first three quarters of 2012, Germany's economy contracted by as much as 0.5% last quarter, according to official statistics, bringing the 2012 total to 0.7%—a major tumble from the 3% growth the country saw in 2011. Meanwhile, the government slashed its expectations for 2013 GDP growth from 1.0% to roughly 0.5%, according to German newspapers.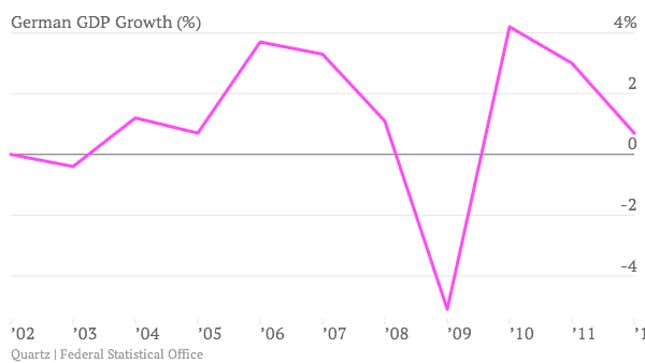 Although Germany has at times decoupled from the anemic growth trends plaguing other euro zone economies, across-the-board declines in today's data signal that its growth may now be stalling. Retail sales in 2012 fell by 0.1-0.3% annually, while household consumption grew a mere 0.8% in 2012, down from year-on-year growth of 1.7% in 2011. The consumer confidence index came in lower than expected in December, dropping from 6.1 to 5.8. Exports, meanwhile, grew at 4.1% in 2012, compared with 7.8% in 2011.
As slipping German consumption and reduced regional demand for German exports begin to take their toll, German manufacturers may look to emerging markets for growth, as the carmaker Volkswagen AG has recently done. But while today's numbers hint at widening chinks in Germany's armor, analysts remain optimistic about an economic rebound. "Moderately favorable labor market conditions (though there has been a marginal small increase in recent joblessness numbers) and low inflation rates, will continue to have a positive impact on households' propensity to spend," wrote analysts at Roubini Global Economics in a recent briefing.