More than 1,100 people have died in the city of Karachi, Pakistan, in recent days due to an intense heat wave. Record high temperatures, power outages, and traditional religious observances, combined, are suffocating and dehydrating the poor, the elderly, the young, and the homeless.
The Pakistani Taliban said today that it blames K-Electric, the private company that supplies Karachi's electric power, for the disaster; a public statement from the group cited "unnecessary power outages and profiteering practices," according to a translation by the New York Times. The Taliban also threatened to "take action" against the company if outages continue.
The Pakistani prime minister's office and the provincial government of Sindh also criticized K-Electric, and blamed each other for insufficient oversight of the company's operations. Meanwhile, Pakistan's climate change minister said the heat wave was probably exacerbated by coal power plants in India.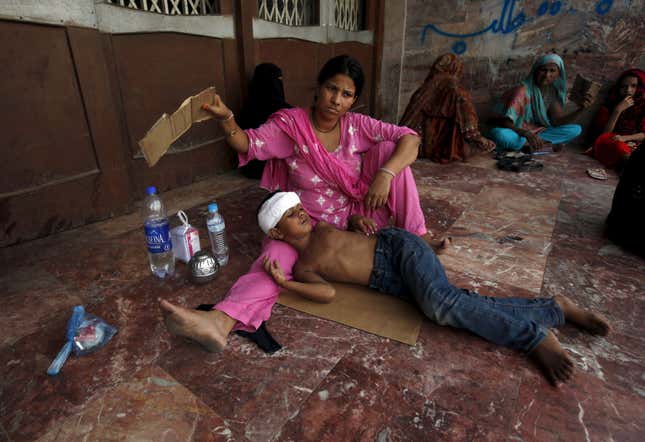 The current heat wave in Pakistan, a predominantly Muslim nation, is undoubtedly worse because it's happening during Ramadan, when many have vowed to not eat or drink during daylight hours. Consequently, explains Mohammed Hanif, in an op-ed for the Times, some are "reluctant to ask" for water, and others are "reluctant to offer." Furthermore, he writes:
In this month you can walk miles without finding a sip of water. And Karachi has developed in a way that you can also walk miles without finding any shade to cool down. Trees have been cut down to widen roads, overpasses have gobbled up footpaths; there are few shaded bus stops. Without water and without shade, while fasting or pretending to fast, people going to and coming back from work just fell on the streets and died.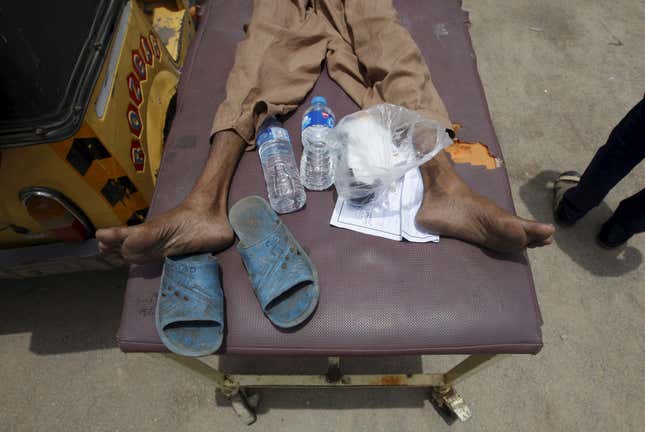 Karachi, with a population of more than 20 million people, is on the coast, but despite the Arabian Sea breeze it still feels like an oven this week. Temperatures reached 45°C (113°F) on June 20, and although they have not been as high in recent days, the death toll keeps rising. The city's morgues have run out of space, and mass graves are now being dug outside.