An unmanned SpaceX Falcon 9 rocket bringing supplies and scientific cargo the International Space Station came apart just minutes after launch today.
The cause of the failure, which appeared to come as the rockets' two stages were about to separate, is still unknown. The company says it is assembling a team to investigate and NASA expects to hold a press conference at 12:50 pm EST, and we will update this post with more information.
NASA reported that it was a "non-nominal" flight, and that the rocket had broke up over the range at 2 minutes and 19 seconds into the flight, at an altitude of about 34 kilometers. The rocket's Dragon space capsule carried 4 tons of food, fuel and science experiments, as was slated to return 1,400 lbs of cargo to earth after a one month stay at the orbital station.
This is the third resupply mission to the ISS to fail in the last 10 months; one mission attempted by Orbital Sciences last fall ended in an explosion while a Russian mission spiraled out of control in April. The station is currently inhabited by two Russian cosmonauts, Mikhail Kornienko and Gennady Padalka, and one American astronaut, Scott Kelly, who is spending a year onboard to study the affects of long-term space habitation on the human body.
"We are disappointed in the loss of the latest SpaceX cargo resupply mission to the International Space Station," NASA administrator Charles Bolden said in a statement. "We will work closely with SpaceX to understand what happened, fix the problem and return to flight. The commercial cargo program was designed to accommodate loss of cargo vehicles."
NASA officials say that astronauts onboard have enough supplies to make it at normal levels until July 24, when they would need to tap reserves that would last until September. Three missions—one from Japan, one from Russia and one from SpaceX—are scheduled to visit the ISS by the end of September.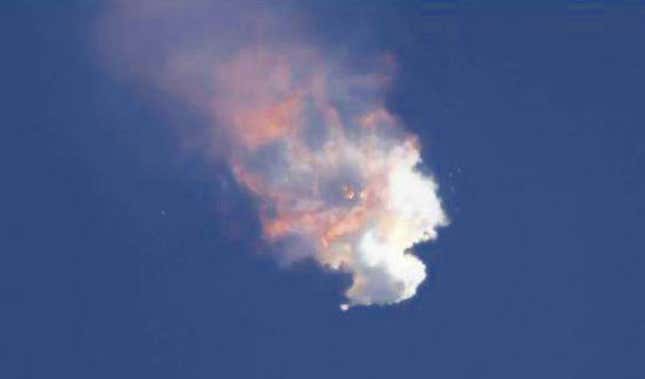 This was the 19th launch of the Falcon 9 and the first to fail, a major setback for the well-regarded aerospace company founded by serial entrepreneur Elon Musk. The upstart firm is racing with Boeing to be the first private company to carry people into space thanks to a $2.6 billion NASA contract and was recently certified to carry national security satellites by the US Air Force.
However, there is no doubt that today's incident will embolden the company's critics in Congress and competitors like the United Launch Alliance, a joint venture of Boeing and Lockheed Martin that frequently cites its consistent launch record to contrast with SpaceX.
Those companies, however, have not found a way to match the innovation and cost savings that the Silicon Valley-infused SpaceX has delivered prior to today's launch. The company had also intended to attempt to land the first stage of its rocket on a floating platform, an effort to save money by reusing one of the most costly components of the vehicle that is typically discarded.
Update:
From NASA press conference:
"We're in an extraordinary position to find out what happened and get back to flight as soon as we safely and reliably can," said Gwynne Shotwell, president of SpaceX. "We will pour even more effort into finding out every possible source in the future. This doesn't change our plans, we're very confident in our team, in our operations team and our technical team."
NASA's William Gerstenmaier, associate administrator of the Human Exploration and Operations directorate, reiterated the need for full funding in order to tackle the "difficult engineering problems ahead of us."