If you visited or lived in Greece before 2002—when the euro took over—you probably used the drachma, then the nation's currency. More than a dozen years later, it might be coming back.
Mired in a financial crisis and buried in debt, the nation could soon default on its loans, exit the euro zone, and bring back its old currency.
Greek banks have actually been preparing for years for a potential return to the drachma. Of course, the previously decommissioned currency could not be used again. But new banknotes based on the old design may be printed instead.
"If the original drachma printing plates still existed, it could be a fairly straightforward process to change the dates and use the existing machinery," the British Museum's Thomas Hockenhull told the BBC. Coins, he added, could be ditched entirely. "They may just do away with coins and have only paper currency. The cost of producing a coin can be more than that of making a paper note, because of the metal content."
UK-based banknote manufacturer De La Rue, which produces over 150 national currencies, drew up contingency plans way back in 2012 to print drachma notes in case Greece approached it for help, the company told Reuters then. While Greece's state printers could orchestrate the drachma's production, a handful of global firms like De La Rue could be called on to help.
Here's what Greece's "new" 5,000 drachma note looked like when it was introduced in 1998 (it had enhanced security features):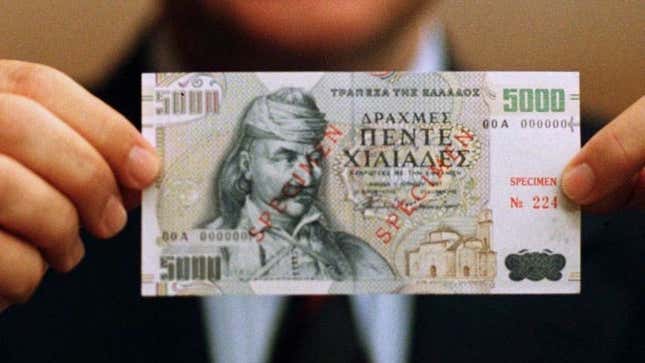 Photos of the drachma next to the euro could suddenly be relevant again: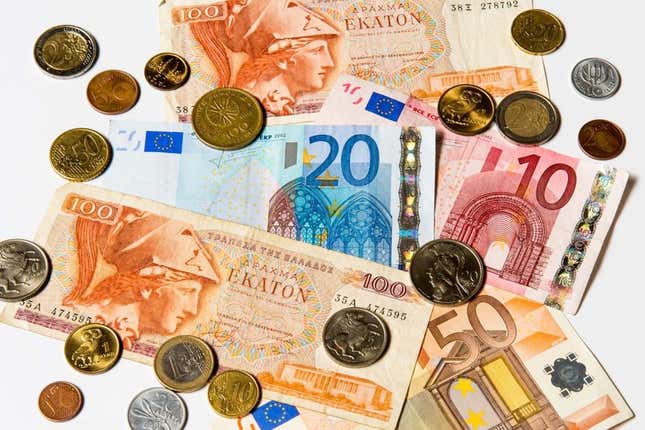 Of course the drachma has for years been considered an important piece of Greece's history: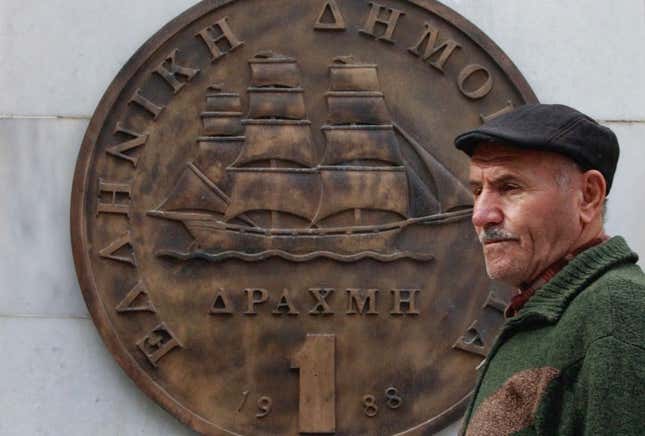 But what was old could soon be new again.