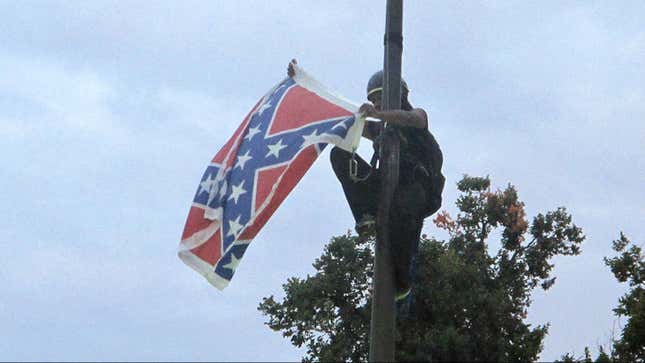 This post has been corrected.
Activist Bree Newsome didn't wait for South Carolina lawmakers to start their deliberations on whether to remove the Confederate flag from the state capitol grounds in Columbia: she decided to do it herself. She scaled a 30-foot flag pole on June 27 and took the contentious symbol down. She was promptly arrested by police who were waiting for her at the bottom.
In a video of the incident, she can be heard saying: "You come against me in the name of hatred, repression, and violence. I come against you in the name of God. This flag comes down today." The flag was returned to the top of the flagpole 45 minutes later.
Newsome, a 30-year-old activist, and her companion James Ian Tyson received a misdemeanor charge for defacing a monument on state grounds, which carries a $5,000 fine or up to three years in prison or both. Todd Rutherford, the minority leader of the state House of Representative, will represent Newsome. Bail was set at $3,000 for each; a crowdfunding campaign for their legal defenses has raised more than $100,000.
The flag has been the subject of a heated nationwide debate since white supremacist Dylann Roof killed 9 people at a historic black church in Charleston. Online images of Roof wielding the flag, a symbol of slavery and racism for many, surfaced following the shooting.
Last week, Rutherford called for the state's governor Nikki Haley to take down the flag for "repairs" while the body of Clementa Pinckney, a state representative slain in the church lay in the State Capitol on June 24. "I hope that the governor would look up at the flag, as I did yesterday, and notice that it looks a little wind-torn," he said, adding that it the governor could take the flag down "and those repairs may take the four hours that his body's at least going to lay in the rotunda."
Quartz reached out to Rutherford, and will update this story with any comment.
"We removed the flag today because we can't wait any longer. We can't continue like this another day," Newsome said in a statement to the media over the weekend "It's time for a new chapter where we are sincere about dismantling white supremacy and building toward true racial justice and equality."
An earlier version of this post incorrectly stated that the flag was taken down in Charleston; in fact it was taken down in the South Carolina state capital of Columbia.