Ah, the eternal question: If you posted something to Facebook and nobody liked it, did it really even happen? Yes, but that deafening silence will still take a toll on your self-esteem.
The San Francisco-based company Klout, best known for assigning scores to users based on their social media influence, recently analyzed 144 million posts and 1.1 billion reactions to find the best times to post on social networks, based on others' likelihood to respond (what better metric than social affirmation?).
In general, people are most likely to respond to social media posts during the weekdays—especially during working hours and from 7pm to 8pm—with a major drop-off in reactions (likes, shares, replies, retweets) on the weekends.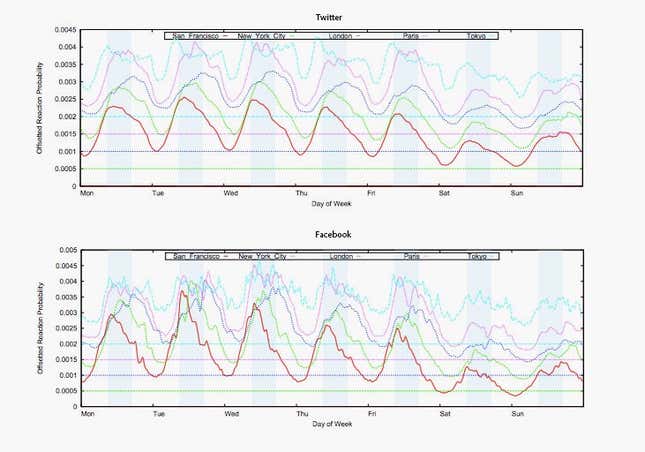 That said, habits do vary regionally. People who live in San Francisco are more likely to respond quickly than their counterparts in New York City. In Tokyo, meanwhile, the probability of responses increases dramatically after working hours, attesting to Japan's stringent work culture.
Compared with Facebook, Twitter typically sees bigger peaks in usage and about twice the probability of eliciting responses. Based on that, the researchers from Klout say posting at the right time could "lead to comparatively larger gains." Reaction times are also much faster on Twitter, which makes sense since the service is largely focused on real-time communication, compared with Facebook's algorithmic news feed.
Fifty percent of responses on Twitter happen within half an hour, while on Facebook it takes on average up to two hours for the first half of the responses to come in.