In the middle of a bright yellow room at The Morgan Library and Museum in New York sits the 150-year-old original manuscript of Alice's Adventures in Wonderland, written and self-published by the enigmatic Oxford University mathematics teacher Charles Lutwidge Dodgson—better known by his pen name, Lewis Carroll.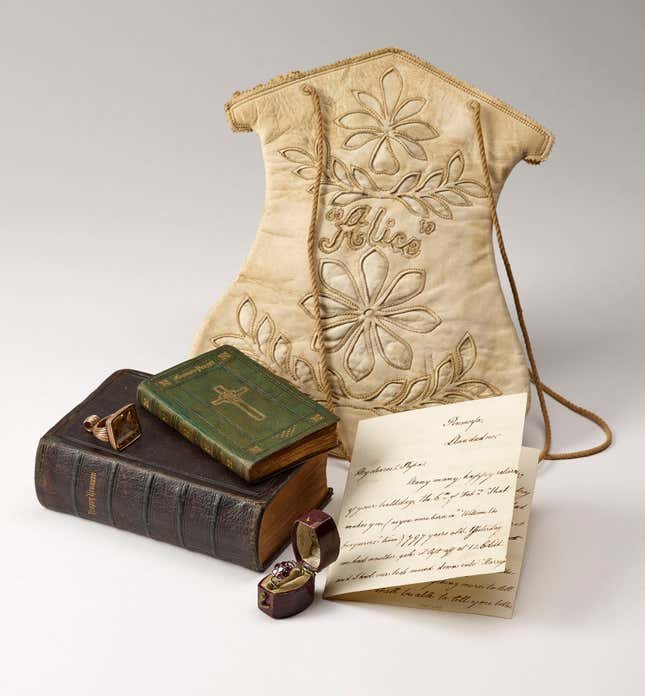 One of the most popular works in English literature, Alice in Wonderland (originally titled Alice's Adventures Under Ground) started as oral tale to entertain three children—sisters Lorina, Edith, and Alice Liddell—during a boating trip down the Thames River on a hot summer day in 1862. Carroll, then a young Oxford tutor, spun the fantastic tale packed with riddles, puzzles, and logic games, partly to practice his lessons in mathematical logic, which he taught at Christ Church, Oxford, for 26 years.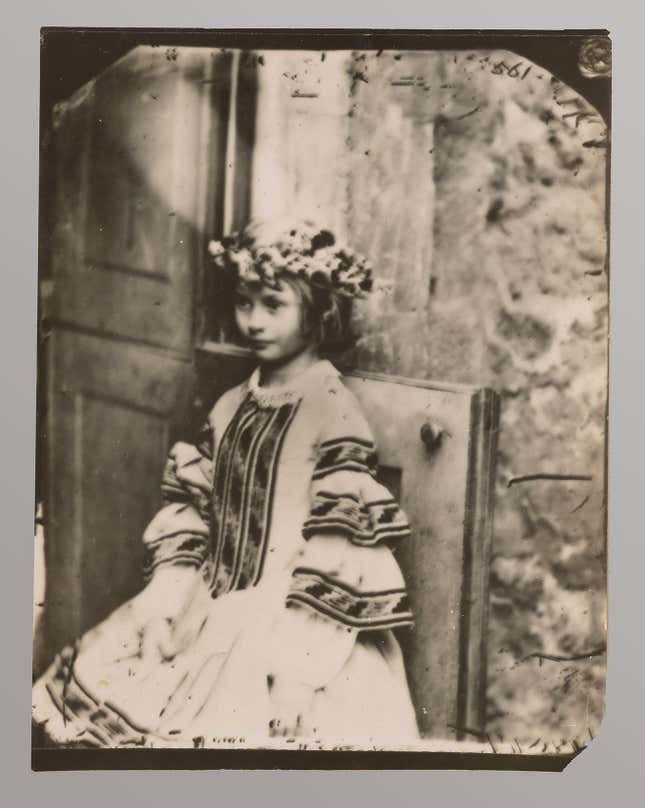 Carroll's original, handwritten manuscript, on loan from the British Library in London, is back in New York for the first time in three decades. It was once in the possession of an American collector who purchased it from Alice Liddell, but it returned to England in 1948 (and briefly came back to the US for an exhibit in the 1980s). The treasured tome is now the centerpiece of a fascinating exhibition at The Morgan, an institution that was once the private library of banker John Pierpont "J.P." Morgan.
At a time when most books, certainly literary classics, are available in many formats and delivered on various tablets, devices, and platforms, why should we care about the original manuscript? What does a personal encounter with Lewis' meticulous scrawl bring?
The writer's hand
"The original item has a presence," explains Carolyn Vega, the museum's assistant curator of literary and historical manuscripts. "It was surprising and more beautiful even to me—and this is something that I don't deal with infrequently." As a "librarian for handwritten stuff," Vega has seen hundreds of old, precious manuscripts, musical scores, and incredible works on paper. These items are a cornerstone of the Morgan's collection; the museum is the only place in the world with three copies of the Guttenberg bible.
Vega says that encountering Carroll's original 90-page tome in person isn't just an occasion to learn, but to experience. The object's illuminating, revelatory content will, for some at least, offer something of a spiritual charge.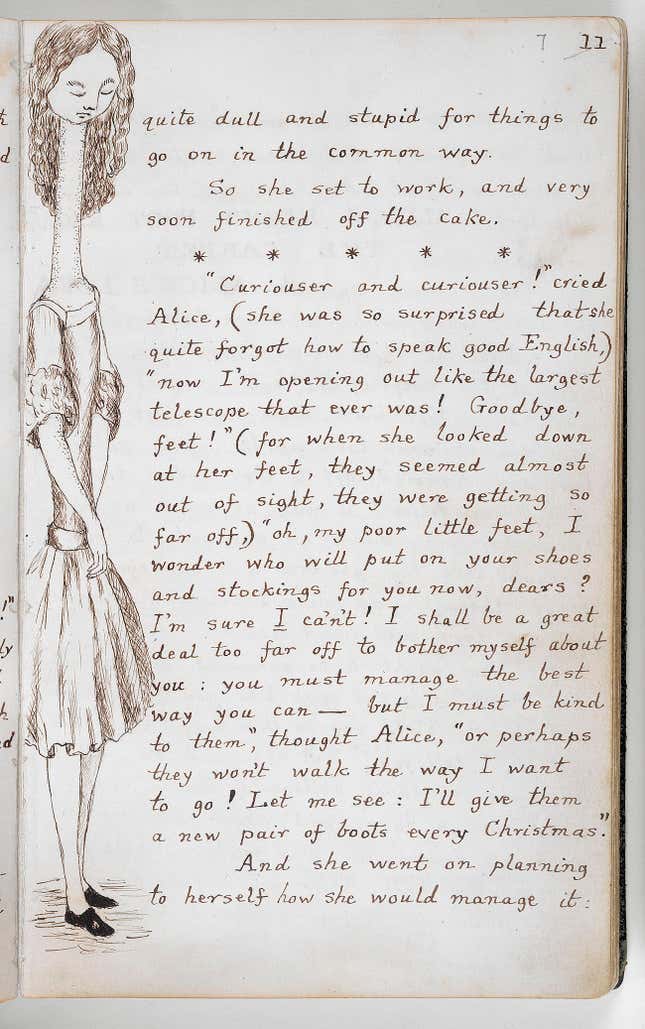 The manuscript, a Christmas gift to young Alice, who coaxed Carroll to write out her favorite story, was written by Carroll in neat Roman script—almost like a typeface—that was cleaner and more intentional than his regular handwriting. "Knowing that this story was written out for an actual little girl is one of the reasons why I find it so special," muses Vega. "You can really see the deliberateness and care that he took" in putting it together.
Original drawings
It took Carroll two and a half years to complete the first written version—in part because he labored and agonized so long over the 37 pen and ink drawings that he eventually outsourced to renowned illustrator and political cartoonist John Tenniel. Carroll, who also was an accomplished and prolific photographer, practiced sketching and went through numerous drafts of the figures he eventually inserted into the book.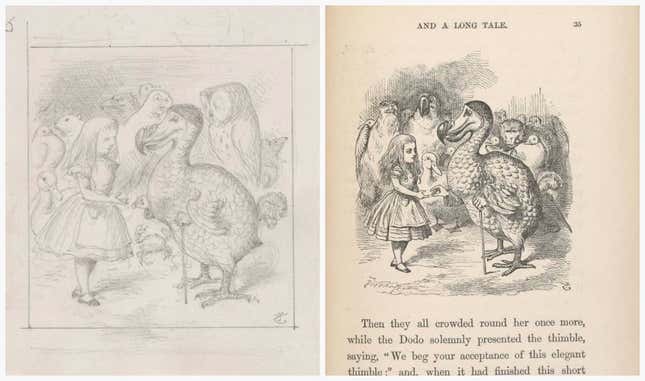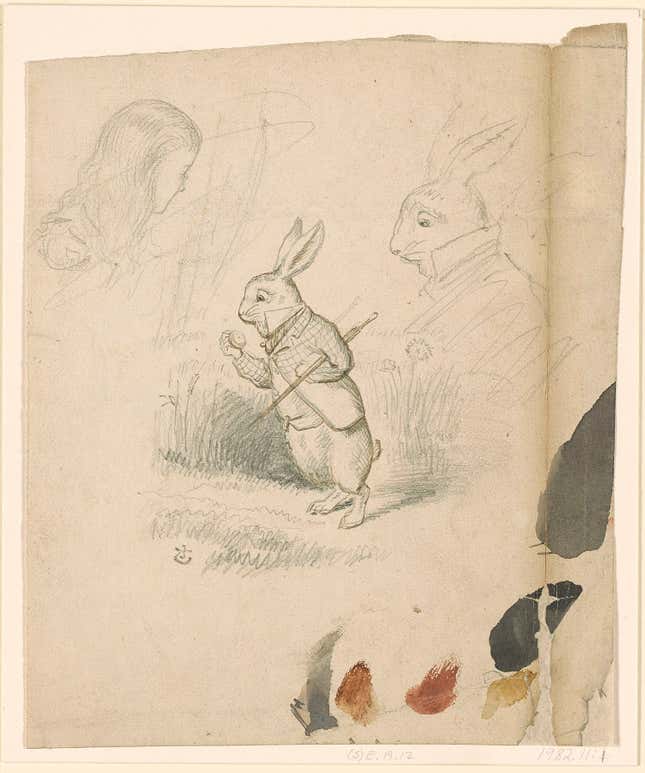 While Tenniel's iconic illustrations became the basis for adaptations of the story for film, theater, books, and other media, Carroll's original drawings—crude yet charming in comparison—provide a glimpse into the author's creative process. "I think it's interesting and moving," says Vega. Curiously, Tenniel's final rendering of Alice is based not on Carroll's original muse but on a photograph of the daughter of another colleague at Oxford.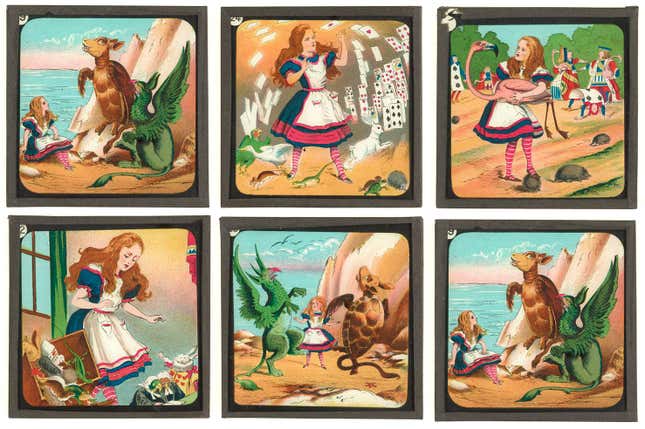 Visitors can encounter Carroll's original manuscript along with two of his diaries and a thoughtfully curated collection of related papers, photographs, short films, and visual material at the Morgan Library until October 11.