More than 15 years after it raised a ruckus in New York, Chris Ofili's mixed-media painting depicting a black Madonna decorated with elephant manure sold at auction at Christie's in London today (June 30) for 2.9 million pounds ($4.6 million). This is a record for its artist, who surpassed his previous auction record of 1.9 million pounds.
In 1999, the Turner Prize-winning British artist made the headlines when his painting The Holy Virgin of Mary reached the Brooklyn Museum in New York as part of a group exhibition of young British artists. Ofili's oeuvre portrays Mary wearing a blue cape parted to reveal a breast made of dried and varnished elephant dung. Similar to Old Master paintings, Mary is surrounded by angels—only here they are drawn in the shape of genitalia. And the 8-foot-high canvas is propped on two lumps of dried dung.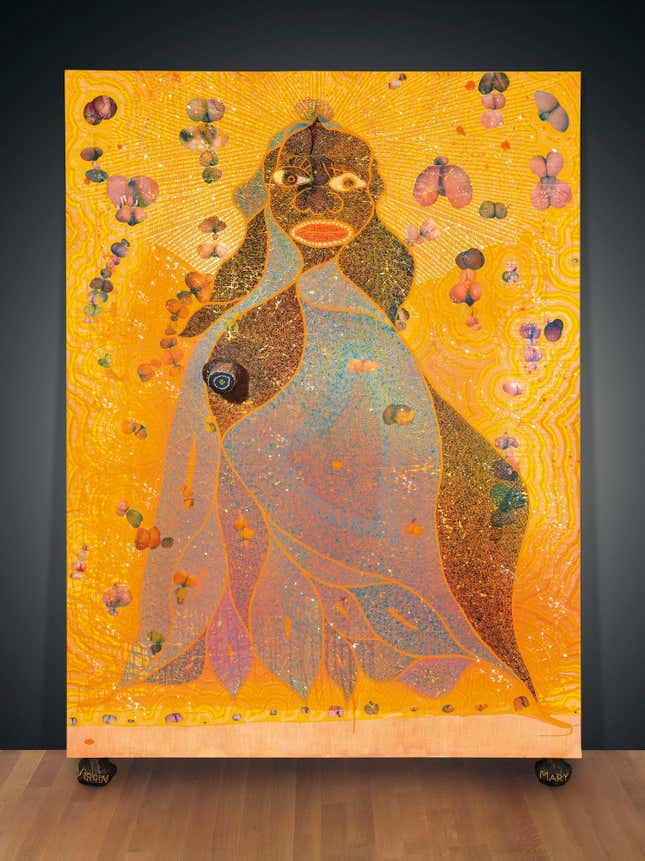 The painting famously caught the ire of former New York City mayor Rudolph Giuliani, who was appalled by the use of elephant manure and sexually charged motifs in the Virgin Mary's depiction, calling it "sick" and offensive to the Catholic church. The museum, which is supported by public funding, later sued Giuliani after he threatened to freeze its budget allocation.
Two months into the exhibit in New York, the work was vandalized by 72-year-old visitor who smeared white paint on the canvas. The museum staff quickly cleaned off the paint without significant damage to the piece.
The painting was once owned by advertising magnate and art patron Charles Saatchi, who purchased the painting from Ofili. Later it was acquired by Australian professional gambler and art collector David Walsh. Walsh, the founder of the Museum of Old and New Art (MONA), sold the Holy Virgin along with works by Damien Hirst and Jenny Saville to raise money to build a new wing for his museum, specifically to house several large-scale works by James Turrell.
"I've made my money gambling. And here, at this auction, I'm gambling again," said Walsh in a statement. "My gamble isn't that you will pay enough for these works to justify my selling. My wager is that the future, for me and my museum, is more rewarding than the past."