Undercurrent, a New York City-based strategy consultancy, views itself as an incubator of sorts: It tests out the management advice it recommends to clients on itself first.
The 28-person agency, recently acquired by Quirky, has run under Holacracy—a management system designed for self-organization—for two years now. More recently, Undercurrent has decided to pursue transparency. Last month the company released an internal transparency report detailing its annual revenue (just short of $10 million), employee engagement, comparative profitability performance—and shared its decision to move to opt-in salary transparency, encouraging other private companies to follow suit.
A few days after the Quirky acquisition in April, the chart below appeared on the kitchen whiteboard with the statement, "I would make the following data public (ish?)." In order to be "in," the partners asked if employees would agree to share the following set of data:
Name, Band Level, UC Tenure, Start Date, Salary, Bonus %, Billable (Y/N), Gender, Education, Experience Prior to UC, Total Work Experience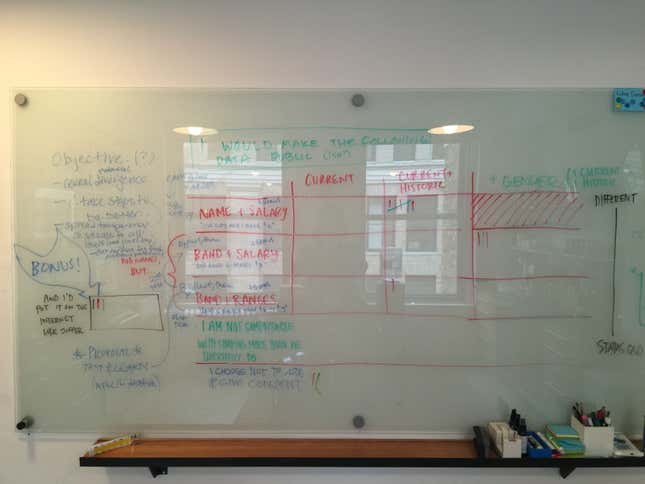 After three days, 57% of the team opted in. Three months later, it's up to 80% of the company, although that's in part because 10 employees moved to the Quirky side of the business and the team is now smaller.
"More and more people opted in, but it made a lot of people uncomfortable," he continues. "It started to create this in/out group dynamic. People more tenured were more comfortable sharing their salaries with peers. Some of the newer folks didn't want to publish their salary, but also felt like they were missing out in some way with critical information."
Buffer, a social media management tool—now considered a pioneer in radical transparency—introduced salary transparency within the company from day one.
"My intuition would be that opting in vs opting out isn't something that'd be feasible for us," Buffer co-founder Leo Widrich tells Quartz. "Instead, we'd rather like to understand any concerns from the team and then move forward as one team, without having some people being transparent about their salaries and some not. This is really a cultural mandate, if someone truly opts out, they are also opting out of that part of the culture, which creates a clear misalignment, where they might not be doing their best work anyways and could do better at another company."
Widrich says some employees had concerns about releasing their salaries publicly, but ultimately, everyone jumped on board. "We felt that this aligned with our value of transparency very strongly and hoped that all team members were in tune with our values as much as we thought, which was luckily the case," he tells Quartz.
One of the biggest advantages of salary transparency is establishing trust, a greater information flow, and hopefully, eliminating gender pay disparity. Parker Jones said that in revealing salaries, some gender pay disparity became apparent but the company is working toward reconciling that by fixing salaries to a system where employees are paid by band level.
He doesn't deny that an opt-in system can put pressure on those who have opted out: "I believe in perfect symmetry of information and that we should push our entire organization to total transparency."
But salary transparency is just one piece of the pie. When employees have greater access to the company's entire financial portfolio, they feel as though they have a greater stake in the business.