In 2012, Marilyn Monroe's buxom figure inspired two towers in Canada. Now it's Beyoncé turn to become the muse for a skyscraper in Melbourne. Designed by local architecture firm Elenberg Fraser, Premier Tower is a 68-story, 226-meter-tall building inspired by a 2013 video from the singer.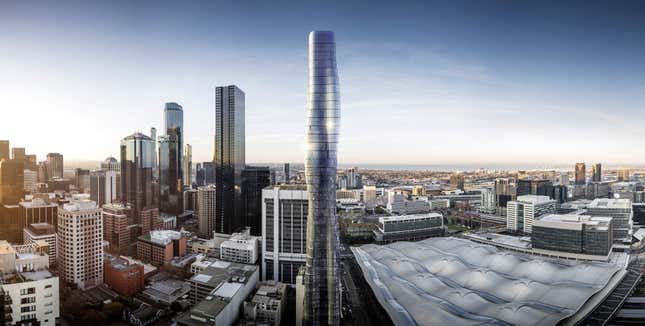 The project description published on Elenberg Fraser's website cites the source of their aesthetic inspiration:
The complex form—a vertical cantilever—is actually the most effective way to redistribute the building's mass, giving the best results in terms of structural dispersion, frequency oscillation and wind requirements. Art and science? You betcha. For those more on the art than science side, we will reveal that the form does pay homage to something more aesthetic—we're going to trust you've seen the music video for Beyoncé's Ghost.
The video features a stoic Queen Bey enveloped in a billowy translucent black fabric. The sequence jump cuts to faceless dancers trapped in stretchy column dresses—writhing, wiggling, wrestling in place—the outline of their lithe naked bodies showing through the skintight cloth. To be technical about it, it's actually these gyrating back up dancers—not exactly Beyoncé's body—that presumably inspired Premier Tower's undulating glass façade.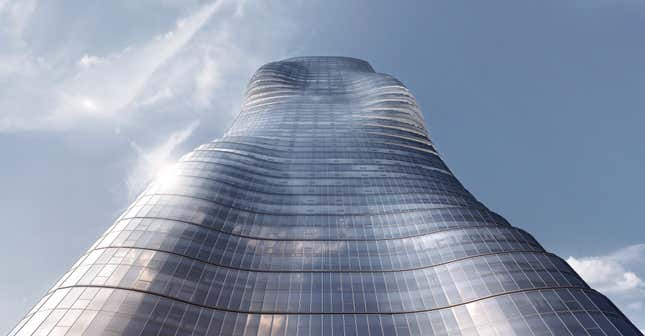 But the allusion to Beyoncé is flimsy at best. The comparison—not officially endorsed by the Crazy in Love singer—has proven to be useful fodder for bouts of pop culture punnery (i.e. Melbourne, can you handle this?) but harsher critics have called the architects' on the seemingly cheap marketing ploy to promote their work, seeing through their efforts to capitalize on Beyoncé's celebrity:
Elenberg Fraser's design for Premier Tower looks like a shoddy body double for Studio Gang's innovative Aqua Tower in Chicago, those aforementioned twisty Marilyn Monroe twin buildings (a.k.a. Absolut Towers) in Mississauga, Canada, the GT Tower in Seoul—perhaps even a remix of its own Abode318 building recently completed in Melbourne.
Bereft of real innovation, it seems that its architects may have relied on Beyoncé's popularity to give the building commissioned by a Singaporean development firm instant character and distinction—and in so doing stealing the spotlight in the architectural world stage, even for a fleeting moment.
Quartz has reached out to Beyoncé's company for comment.