If you're eager to date a celebrity, the smartphone dating app Tinder will now help you avoid being scammed or "catfished."
Tinder has announced that public figures, celebrities, and athletes will be checked out and, if found to be who they say they are, given verified accounts, with a blue check next to their name similar to the verified symbol on Twitter.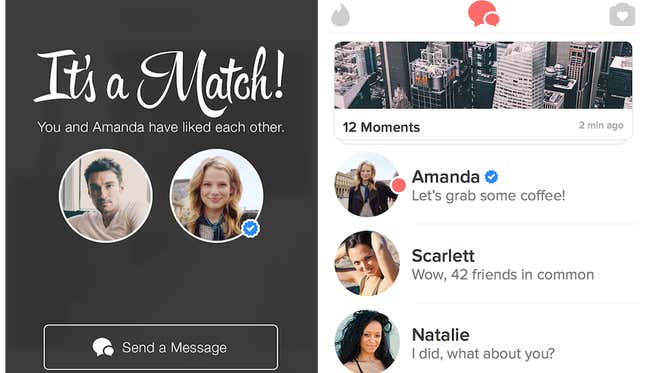 The list of high-profile people who have been spotted on Tinder is, unsurprisingly, not long. Known users include former Disney star Hillary Duff; the notoriously troubled actress Lindsay Lohan; and singer Lily Allen (who apparently joined despite being married). Actress Mila Kunis apparently downloaded the app to test it out for her then-fiancé Ashton Kutcher, who was interested in investing in the company and was seeking her opinion.
Tinder works by setting up a your information based on your Facebook profile—first name, a few pictures, and a short bio—then matching you with other users based on location parameters. A finger-swipe right means you want to match, and a swipe left means you're not interested. If both people swipe right, Tinder allows them to communicate by text via the app.
Of course the chances of actually meeting your favorite pop star on Tinder are slim—but at least now if you do, you can swipe right with confidence.