When the Berlin-based Serbian designer Saša Kovačević, the creator of the five-year-old fashion line Sadak, set out to design this season's collection, he wanted to create a post-modern version of an Islamic miniature—a millennia-old form of painting that depicted historical events in rich pigment and detail.
But Kovačević is not stuck in the past. On the contrary, he is fascinated with the internet, and consistently works with themes around it, so naturally that's where he turned for imagery and inspiration, eventually creating a dreamscape image in pastel tones, depicting two women walking on the beach in burkas. This digital print reappeared throughout Sadak's Spring 2016 collection, emerging on shimmering tees and what appeared from the front to be a male burka—that is, until the model walked past, revealing the garment to be backless.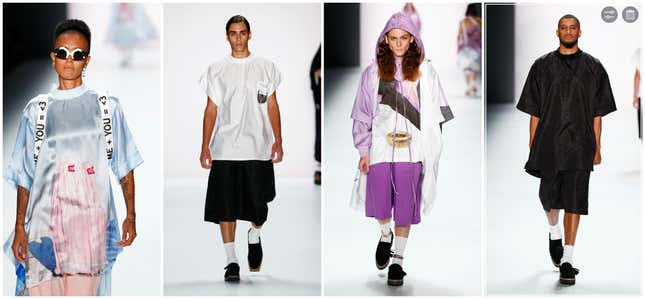 A thumping soundtrack by Malik Saaka, a young Miami DJ who Kovačević found online, along with white tube socks, knee-covering shorts, and boxy short-sleeved shirts, gave the show a hip-hop energy that recalled the crackling excitement that has surrounded Shayne Oliver, the designer of the New York-based label Hood by Air.
Instagram figured heavily into Kovačević's concept as well, connecting him with the collection's muse, the Saudi Prince and internet gaming entrepreneur Fahad bin Faisal Al Saud. Prince Fahad actually walked as a model, closing yesterday's show, in a long lavender, black, and white-printed pullover paired with a light, flowing jacket in the same palette. (Naturally, he documented the experience on Instagram.)
Fahad also sponsored Sadak's first shoe collection, an assortment of flatform creepers—some tasseled—in pale pink leather and black suede.
Kovačević's work has traveled around the world both online and physically. Earlier this year, he was invited to present his collection in Qatar, and he occasionally travels to Serbia, where about half of his collection is produced at his family's small facility about 100 kilometers west of Belgrade.
As WWD's Susan Stone pointed out, Sadak is available in Hong Kong, Japan, and Los Angeles, but not yet sold in Europe. And although Kovačević told Quartz he was well-received in Doha, he's not sure he sees Qataris buying into this season's collection.
"They are still very conservative," he said.