The US national women's soccer team celebrated its World Cup victory today (July 10) in New York City, with a ticker tape parade through downtown Manhattan's "Canyon of Heroes." Lining the route were scores of parents with their children. On parade: Female role models up real close and in person.
Quartz spoke to some of these kids and their parents about what this win and this parade means to them.
What is special about this World Cup win?
"You can work as a team and you can win the trophy." –Rebecca Barcelo, 6
"It was fun because we got to see them lift up the trophy and they were screaming… It makes me really excited that they got to win and they now can have three stars on their shirts." –Hayden McBean, 7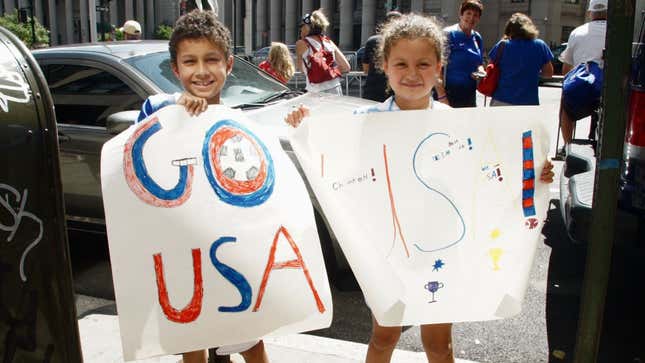 "[Megan Rapinoe is] sort of like me because I play soccer as well and she plays midfield and just, I get a lot of inspiration from her… I see myself on that field just like her."-Amanda Lihv, 10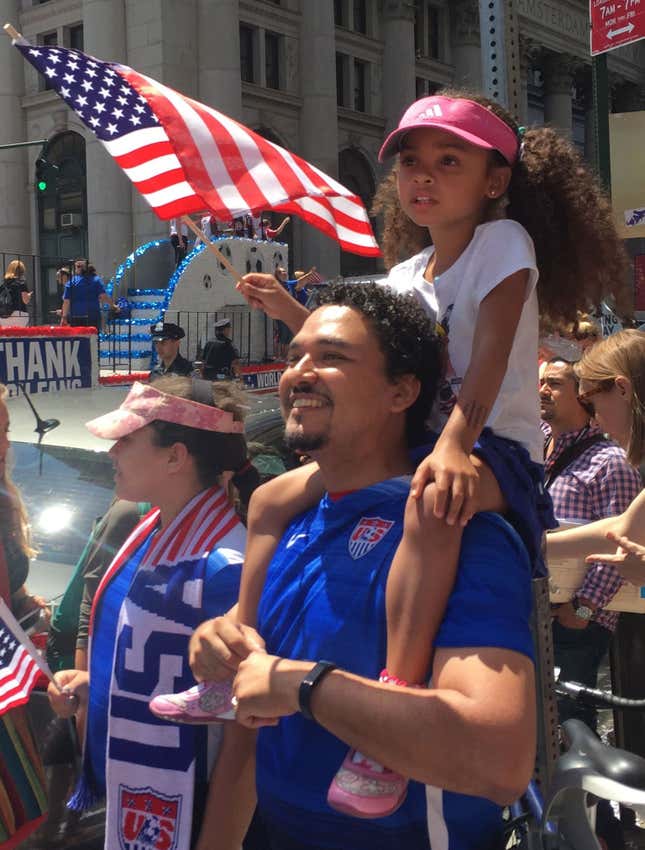 "'I like the women's [team] because they're really good… I like Alex Morgan, Hope Solo, and that's it." –Sebastian Lihv, 6, who says he likes women's soccer better than men's soccer.
"I like Carli Lloyd. Also, she's my number when I play soccer… I always play midfield and score a lot of goals like her, but I like how the girls always play as strong as the boys, they don't give up at all." –Aidan Panian, 10
"I think it's pretty special because… it's always guys. But seeing the girls do it, it's pretty inspirational knowing that girls can be strong too." -Julia Lihv, 13
"I did a book report on Hope Solo and I really like her, so I want to see her today… She's just really ambitious and stuff." Isabella Cermenja, 10
Why is it important to bring your kids to the parade?
"I think it's really really important to show our children, our sons in particular, what it's like to have strong female role models. And these women are exactly that. They're team players in the truest sense of the word, and I think that that's something that we often don't see in other professional sports."-Michelle McBean, who brought her son and daughter to watch the parade from Fairfield, Connecticut.
"I think they need to see that women can do anything that a man can do. And in many ways they can be just as good, if not better," Luis Barcelo tells Quartz. Barcelo's 12-year-old daughter interjected, "Especially because the men have never won a World Cup."