For years now, 3D printing has nipped around fashion's margins, appearing at fashion and technology conferences in the form of dresses and accessories that look fit for, well, fashion and technology conferences. That all changed this week.
First at Chanel's couture show in Paris, designer Karl Lagerfeld showed suits in tweeds that integrated 3D-printed elements, putting the technique on a stage—however ominously—beside time-honored couture techniques such as hand-beading, intricate embroidery, and feather work.
Then, on July 10 at Berlin Fashion Week, designer Marina Hoermanseder sent out a chain armor-like, 3D-printed vest that blended perfectly with her collection of Alice in Wonderland-worthy sculptural molded leather bodices and bell skirts, blouson jackets, smocked balloon pants, and thousands of handmade leather flowers.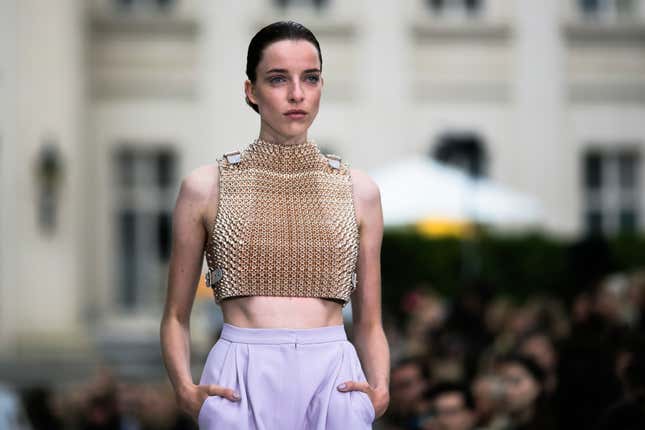 With the help of architect Julia Körner, Hoermanseder had the piece's surface made to mimic soft, smocked fabrics that appeared throughout the collection. Grey leather straps with rose gold buckles fastened at the shoulders and sides.
Fitting as it was, the piece almost didn't appear in the show at all. It was printed of resin in the Netherlands and colored rose gold by Hoermanseder's buckle-maker in Italy, which took some perfecting.
"The first one burned," Hoermanseder told Quartz, after her show.
The second one looked great. Due to a shipping mixup, the designer said, it arrived just 10 minutes before showtime, like a true showpiece.
So will Hoermanseder reproduce the vest for selling?
"If someone would wear it," she said. "The thing is, with 3D-printing, we have the file. So we can reproduce it as many times as we want."