It sounds like an internet meme, but this one is IRL.
From a collaboration between creators of the giant inflatable head of Lionel Ritchie and the art-beaming mega projector Laser Cat, comes Nicolas Cage in a Cage. Created by the Barcelona-based duo Dave Glass and Killian Cooper of Hungry Castle, the new interactive inflatable sculpture will debut at the Splendour in the Grass music festival in Australia later this month.
Like their previous masterpieces, this gargantuan homage to the ultra-prolific US actor was inspired by memes, mostly aping his shape-shifting prowess and apish off-camera antics.
To date, the 51-year old Cage has acted in 82 films. He has embodied an erratic baker with a wooden hand in Moonstruck, a romantic suicidal alcoholic in Leaving Las Vegas, both Charlie and Donald Kauffman in Adaptation, and a swashbuckling cryptologist in the National Treasure series… (We could go on.)
"Throughout internet history, we've seen Nicolas Cage lose his shit and be everyone, but we've never seen Nicolas Cage in a cage," explain the artists in this trippy promo video: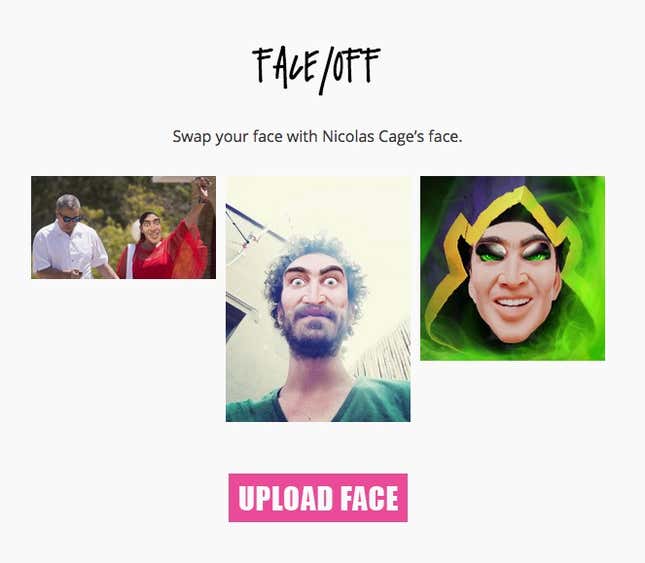 The life-size installation looks like a bouncy striped prison cell where visitors can come face-to-face with a giant effigy of the actor.
"People can punch Nicolas Cage, they can hug Nicolas Cage but whatever happens inside, no one will ever break Nicolas Cage. Ever!" explains Cooper.
Nicolas Cage in a Cage will be installed next to the Craft Beer bar at the Splendor in the Grass festival grounds. Those who cannot attend the three-day festival in New South Wales can upload selfies via the project website and swap faces with the actor—just like John Travolta in their 1997 movie Face/Off.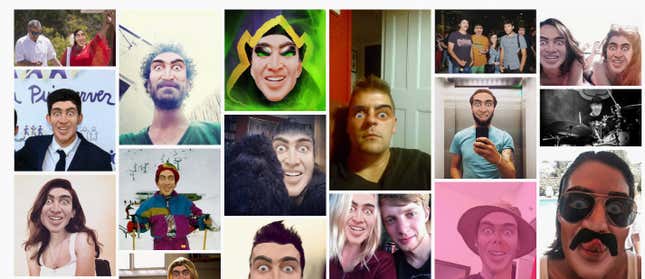 "In order to face him, you must become him," quips Cooper. "Nicolas Cage has taken time out from making a movie every 3 days in order to learn Photoshop and give back to everyone who lends their face to this project online."
After Splendour in the Grass, the sculpture will grace festivals in Sydney and Melbourne before returning to Europe. "Come mid-August he will be flown back—Con Air style to our studio in Barcelona in order to commence the European leg of the tour. We want to give as many people as possible the chance to get in the cage with Nicolas Cage," Cooper tells Quartz.
Cooper and his partner Glass tend to go big with their art. "Scale is everything to us. However the cost of transporting large-scale works led us to working with inflatables," he says "We've grown to love the playful, approachable appearance this material gives to our sculptures."